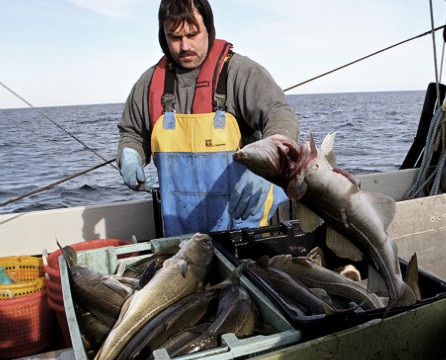 Southcoasttoday.com – NOAA Fisheries Regional Administrator John Bullard has the Gulf of Maine cod crisis all to himself after the New England Regional Fisheries Council found no consensus and simply voted to ask him to just do something.

The council spent most of Wednesday morning hearing mostly criticism of the council's plan to sharply restrict cod fishing from Cape Cod Bay to Eastport, Maine, which would have the side effect of putting charter fishing boats out of business.

The council then spent three hours in the afternoon debating a motion to ask Bullard to take some specific actions, but eventually the motion failed in an 8-9 vote, with member John Quinn of Dartmouth voting 'no.'

Member Thomas Dempsey of Chatham scolded the council, saying that the failure to pass the motion was an "enormous mistake."

He said the council was abdicating, "handing control over to the agency."

When member Doug Grout of Durham, N.H., then made a motion simply asking Bullard to do something, without being specific, Bullard called it the worst of three proposals, but better than nothing.
Genius! After three hours of debate, with the future of the fishing industry on Cape Cod and beyond in their hands, the council dedicated to fishing has come to the conclusion that some other council should "Just do something". Obviously, such a thoughtful and detailed plan was met with overwhelming approval, members gushing over the decision called the plan an "enormous mistake", "the worst of three proposals", and "better than nothing". Talk about a ringing endorsement!
Hopefully this sparks a revolution in Cape Cod politics. When the powers that be have no idea what the hell to do about an issue they can just pass the buck and ask someone else to "just do something". Oh, there's an affordable housing problem? Just do something. The water table is rising and we are facing a massive wastewater problem? Just do something. John Bullard really hit the nail on the head. Everyone knows that "something", while a horrible plan, is indeed better than "nothing".
We could change the welcome signs at the bridges:
"Welcome to Cape Cod, it's really something, which is better than nothing… right?"
Facebook: The Real Cape
Twitter: Hippie - Insane Tony
More Articles From The Real Cape: