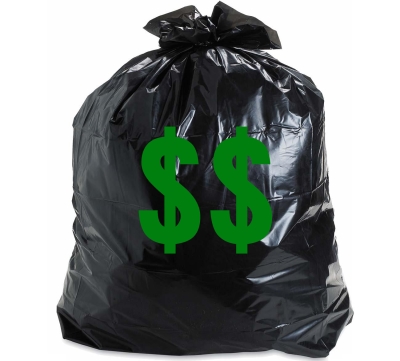 CapeNews.net – Geoff Spillane – Pay-as-you-throw was on the mind of Mashpee Town Manager Joyce M. Mason and Mashpee Department of Public Works director Catherine E. Laurent before last month's vote by the board of selectmen and this week's public hearing.

The Massachusetts Department of Environmental Protection announced October 16 that the Town of Mashpee has been awarded $45,150 by the Patrick Administration for "pay-as-you-throw start-up funds."

The funding is earmarked for towns establishing PAYT programs, and is disbursed to assist with start-up costs, including producing public education materials, and purchasing PAYT bags and recycling bins.

The town was also awarded $1,500 for food waste collection containers, and $1,000 for educational materials for a drop-off recycling program.

According to the Sustainable Materials Recovery Program website, the grant application would have needed to be submitted by 11:59 PM on Wednesday, June 11, 2014.

Ms. Mason said that she told Ms. Laurent to apply for the grant in the event the town decided to roll out a PAYT program.
Interesting move by Mashpee Selectmen and town officials. Not only did they quietly vote for this program, even though the citizens have voted it down twice. We now find out that they had already applied for a grant back in June? So much for transparency from public officials eh?
Here's the thing that bothers me about "Pay As You Throw" programs. They insinuate that right now trash pick up is a free service. Not true. In most towns we have a symbiotic pay as you throw relationship with the government in place already. It's called…
We pay taxes – You act responsibly with our money, operate with a balanced budget, and pick up our fucking trash.
It's not a complicated relationship and it's worked flawlessly for decades. Guess what? The people are still holding up our end of the equation, the question for the politicians is, can they say the same?
Facebook: The Real Cape
Twitter: Hippie - Insane Tony
More Articles From The Real Cape: