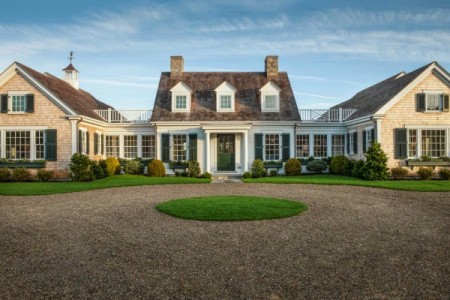 CCT – An Alabama woman is the new owner of a dream house on Martha's Vineyard. Kathy O'Dell of Huntsville, Alabama is the winner of the HGTV Dream Home Giveaway® 2015. O'Dell's name was chosen from 94 million entries, according to the HGTV Home Giveaway Blog. The home is on Crocker Drive in Edgartown, according to the Vineyard Gazette.

The Cape Cod-style, single story home has three bedrooms. In addition to the Martha's Vineyard home, O'Dell, a married mother of five and grandmother of six, won a 2015 GMC Acadia Denali and a $250,000 cash prize courtesy of Quiken Loans. According to the Dream Home blog, the entire package–home and all–is valued at more than $2 million.
Oh great, a $2 million dollar Edgartown mansion for some chick from Alabama. I'm sure she'll get plenty of use out of that. I wonder how long until this house is on the market if it's not already? She'll probably list it for sale right around the time she realizes the yearly taxes are more than Alabama's entire state budget.
Giving an Alabaman an estate in Edgartown is like giving a dog bone to an ant. What are they going to do with it, put a couple of old cars on blocks in the driveway and replace the cedar shingles with old hubcaps? Maybe turn it into the world's most tasteful meth lab?
The only thing that would make less sense than this Alabama woman winning a dream home on Martha's Vineyard would be a person on Martha's Vineyard winning a double wide in Tuscaloosa. HGTV needs to think this shit through a little better next time, maybe have two different contests for each side of the Mason Dixon Line? We've got our hands full with New Yorkers and New Jersey people, we don't need them throwing any cousin humpers into the mix for us to co-mingle with.
Facebook: The Real Cape
Twitter: Hippie - Insane Tony
More Articles From The Real Cape: