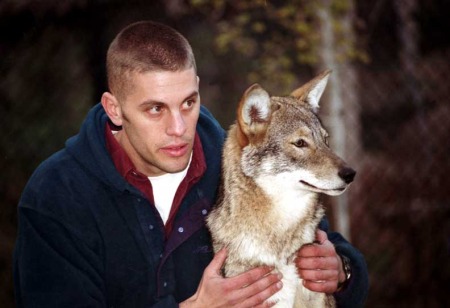 CapeCod.com –  Jonathan Way of Osterville was jogging with his dog off Mary Dunn Road near the back of the Barnstable Municipal Airport when he was struck by two shots fired by Sean Houle, 47.
—————-
CapeCod.com – It was several years ago that coyote expert Jonathan Way of Osterville discovered that the local coyote seen on Cape Cod is really a hybrid between western coyotes and wolves.

Way is among those who have signed on to an effort to try to stop the hunting of coyotes…
Hold up a second. Jonathan Way, the dude who was shot by a hunter a few weeks ago, is an anti hunting activist? Like to the point where he believes that hunting is the reason he has been blocked from doing the research he wants to do? How has this not been brought up in any of the articles about the hunting accident or any of the articles about his research being blocked? Those two articles up there are from the same website just weeks apart.
Look I'm not saying that he got himself shot intentionally, nor am I saying that the hunter shot him because of who he is. What I am saying is that he most likely knew he was in a hunting area right? He also has a ton to gain if hunting is outlawed on Cape Cod. I'm also saying that hunters would have a good reason to hate this guy. I don't know the answers to these questions, but why hasn't anyone asked them?
I mean listen to this interview below. After this dude rails against hunting and blames it for his research being blocked, the interviewer asks him one question at the 13 minute mark about his recovery after being shot by a hunter and that's it. Not one mention about it being quite a coincidence that he was involved in an accident that led people to suggest hunting should be banned on Cape Cod, which would pave the way for his research. On the other hand there was also not one question about if he thought he was targeted. Unreal.
Look, we are bloggers, not journalists, so I apologize for just asking a bunch of questions with no answers, but I'm pretty sure some real reporters read this website, so can one of you get on this please?
Facebook: The Real Cape
Twitter: Hippie - Insane Tony
More Articles From The Real Cape: