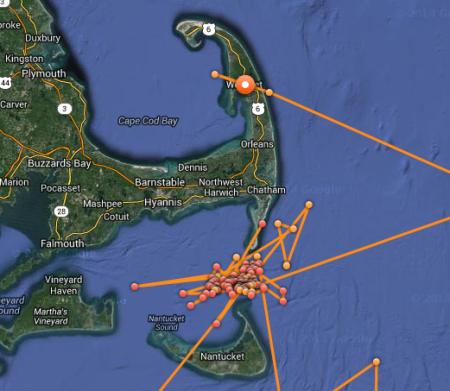 OCEARCH is one of the coolest websites ever. You can track any shark they have tagged with pings. Pings happen only when the sharks tag breaks the water and can send a signal, that's why it looks like they cross land sometimes. Those lines aren't actually their swimming path.
Anyway, the above screen shot is the path of "Katharine", a 14 ft. Great White shark tagged off of The Cape last year and named after Falmouth native Katharine Lee Bates, author of "America the Beautiful". Let's zoom in a little shall we?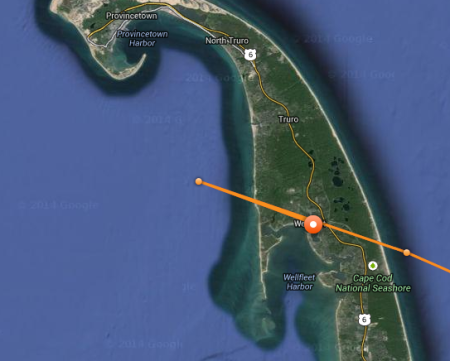 Well that is odd, it almost looks like Katharine is at the Wellfleet Dunkin' Donuts grabbing a coffee or something. What the hell is going on here, let's zoom in one more time…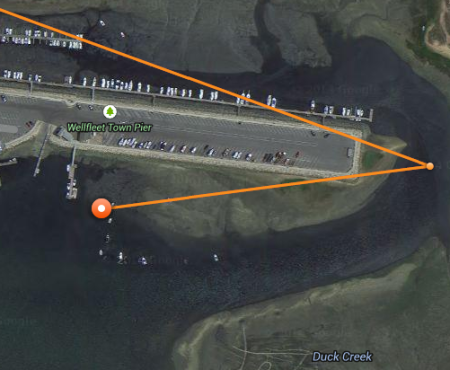 WHOA! That Great White is like 10 feet away from a bunch of dinghies, shit it's like 20 feet away from a bunch of cars! Let's get even closer…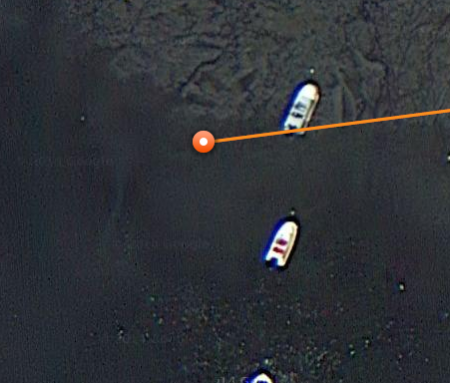 GET OUT OF THE WATER! Can these people hear me? Someone in Wellfleet go warn these people! Oh the humanity! This was yesterday at 5:45 p.m. isn't shark season over? I figured these sons of bitches would be golfing at Hilton Head by now.
Quick! Somebody call the Nantucket Shark Wrangler and get him on the next boat to Wellfleet!
Facebook: The Real Cape
Twitter: Hippie - Insane Tony