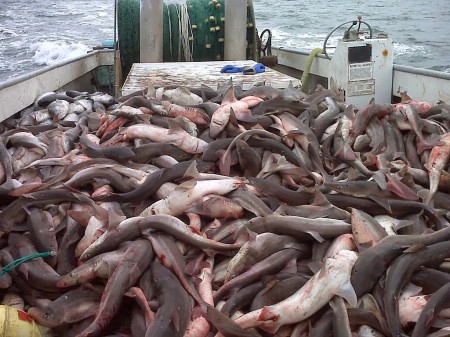 CapeCodOnline.com – Lifelong fisherman Doug Feeney recently built a new 32-foot boat. He named it after his new son, Noah. And Feeney had a new focus: dogfish.

A Chatham resident, Feeney has seen firsthand how the decline of groundfish like cod has hindered the region's commercial fishing industry. But the abundance of dogfish, Feeney said, could give the industry the boost it needs.

Feeney and his colleagues, along with the Cape Cod Commercial Fishermen's Alliance and the National Oceanic and Atmospheric Association are looking to re-brand dogfish, which has been snubbed by domestic consumers because of its appearance — it is a shark and it looks like one — and its name. Europeans have already embraced the white-meat fish: most of the dogfish caught today is exported. But the path to re-branding a food can be long and winding, so the cause will need all the help it can get.

One reason for dogfish's popularity in the UK might be the fact that it is known there by a more appetizing name: rock salmon. And in other regions where the fish is popular, the name has been changed. In France, for example, it's known as "saumonette," or little salmon.

"I think we definitely need to work on the name," Feeney said. "I think the name might be a little bit of a hindrance."

While renaming a fish can lead to positive outcomes – just look at Patagonian toothfish, which is sold under the name Chilean sea bass in the U.S. – doing so can be a big hurdle, Civetta said.
Orrrr… maybe the reason for dogfish's popularity in the UK might be the fact that they are used to eating grey meat that had all the flavor sucked out of it by boiling water? Or could it be that they don't realize that dogfish are the rats of the sea, only to be cursed at when stealing the bait you are trying to catch stripers with?
We are all for trying to expand our local fishery though, so here's our top 5 new names for dogfish…
5. Filet Mignonfish
4. Heroin of the Sea
3. Hy-Town Sushi
2. Canalibut
1. REGGAE SHARK!!!
P.S. Yes, I will post Reggae Shark every single time I have an excuse.
Facebook: The Real Cape
Twitter: Hippie - Insane Tony
More Articles From The Real Cape: