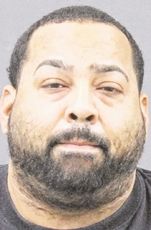 BARNSTABLE — A man with a long criminal record and a penchant for leading police on chases was arraigned Wednesday on a charge of possession of heroin with intent to distribute.

On Tuesday afternoon, two officers found Donnell Pina hiding in the back seat of a Ford Focus at the Hertz Rent-A-Car on Stevens Street in Hyannis, Balcom said.

When Barnstable police Sgt. Mark Mellyn and Detective John York approached the car, they saw Pina throw a plastic baggie, which contained about 13 grams of heroin, on the floor of the car, Balcom said.

In February, he allegedly rammed three police cruisers during a chase on Willow Street in Yarmouth. Police said they found 10 bags of heroin and cocaine hidden between his buttocks that day. A heroin possession arrest in Maine in November led to the bail violation.
Well at least Donell is getting a little bit easier to capture. I guess that's what happens when you get older and lose a step in the drug dealing game. It's kind of sad actually, like watching Michael Jordan when he was a Washington Wizard and was holding on too long past his prime.
Just a year ago Donnell was at the top of his game leading cops on a big chase while ramming not one or two, but THREE cruisers before hiding 10 bags of blow and dope in his ass. Fast forward to yesterday and they find him crouched in the back of a parked Ford Focus with a bag lying on the floor next to him like some minor leaguer with no talent. He can't even pull off the ass hide move anymore the poor thing.
Just sad when a five tool player like Donnell doesn't know when to hang 'em up and retire. Reading this was like watching Mike Tyson get his ass kicked in his last few fights.
Facebook: The Real Cape
Twitter: Hippie - Insane Tony