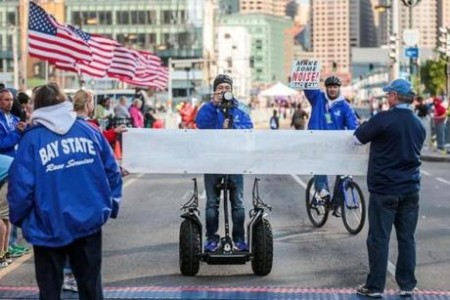 Globe – Amid your rhythmic footfalls, Falmouth Road Race landmarks come and go. The Nobska lighthouse. The flat miles along the Vineyard Sound. The loop around the inner harbor. You check your watch at each mile marker. Right on pace. As the beachside finish nears, the crowds grow larger and louder. You sprint beneath a giant American flag, cross the line 150 yards later, and find a bank of photographers clicking away. Then, with the satisfaction of a race well run, you step off your treadmill.

Welcome to the world of remote road-race participation.

For the first time, runners can enter Falmouth as remote participants and experience a virtual version of the 7-mile course on their treadmills. To make it all possible, the 43-year-old race partnered with Hopkinton-based Outside Interactive. At the heart of the system is the company's Virtual Runner app and high-definition course video. When used with an optional footpod attached to a shoelace, Outside Interactive's software automatically adjusts the video speed to each runner's exact pace — or the speed can be adjusted manually for those without a footpod.

As the course video plays on a laptop, tablet, or television, runners may feel as though they are actually running through Falmouth, minus ocean breezes, of course.
Game changer! Here I was thinking my Falmouth Road Race days were over. Looks like Hippie is coming out of retirement ladies and gentleman, but it will NOT involve me on a treadmill.
I'll just hire a Brazilian for the day, have him put the footpod on his shoelace, plug it into the flatscreen, throw him on a treadmill, plop my ass on the couch with a twelve pack of BL's, a pint of Fireball and a couple of linguica burgers, and then watch the course roll by on my television. Basically I'll have a cook out in my living room, except…
Road Race? Ran.
I'll even make my way down to the Heights afterwards for my post run hot dog and chocolate milk. Then I'll walk all over the place for hours breathing heavy and stretching, maybe swing by the Shanty with my number still on, talk about how much I hate that Nobska hill for a few hours. I might even wrap myself in one of those tin foil capes.
It will be just like when I used to actually run the Road Race, except I won't puke at miles 2, 4, and 6.
P.S. Oh, who am I kidding? I'll definitely still puke at miles 2, 4, and 6.
thanks to RPV for the tip
Facebook: The Real Cape
Twitter: Hippie - Insane Tony
More Articles From The Real Cape: