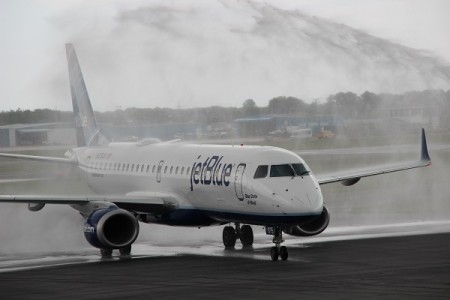 CapeCodToday.com – The first passengers aboard JetBlue's Flight 863 from JFK International Airport in New York to Barnstable Municipal Airport in Hyannis were treated to much more than JetBlue's customary inflight television and endless snacks. The first passengers aboard the airline's 100-seat, twin-engine Embraer E190 were greeted not only by their loved ones, but smiling town officials, pols and other local brass.

Chamber staff handed out swag bags stuffed with local goodies to the arriving passengers and those on the return flight to the Big Apple were also treated to a catered spread featuring white and blue frosted cupcakes and a presentation before their flight. There was even inflight seat bingo (with prizes including 20,000 TrueBlue®points) and a customary water cannon salute honoring the first landing.
First things first. We have a solid record of being staunch supporters of tourism here at The Real Cape. We want these people to visit Cape Cod and spend their money as much as anyone, but let's slow down a little bit here…
Do we really need to give them swag bags, cupcakes and a fucking water cannon salute? These are New Yorkers, not hostages getting home from Iran. Let's just all take a collective deep breath and remember Bucky Dent for a minute shall we?
P.S. Seriously? A water cannon salute?
P.P.S. What constitutes someone being referred to as "local brass"? My new goal in life is to become Cape Cod "local brass".
Facebook: The Real Cape
Twitter: Hippie - Insane Tony

More Articles From The Real Cape: