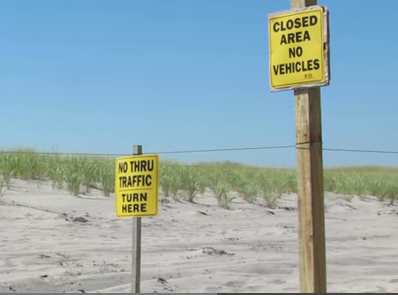 WL – Selectmen voted to set up an account to defray the expense of proving that the entirety of the Nauset Spit belongs to Orleans, but so far it is empty.

Although a portion of the spit has accreted, or grown, into Eastham, Orleans officials maintain it belongs to the town. The Cape Cod National Seashore disagrees, saying it has deeds that prove that portion of the barrier beach is the property of the federal government.

Voters at town meeting appropriated $50,000 to have attorneys and consultants look at historical records, as well as the geology of the area, to buttress the town's case.

Most expect the endeavor will be a pricey proposition so the selectmen voted to set up an account that residents and others could contribute to.

Last week, Selectman Alan McClennen asked Town Administrator John Kelly how much was in the account.

Kelly said there was no account yet, as no one had given money. He said an account would be opened as soon as the first donation was received.
Looks like the people of Orleans have really rallied behind their fearless leaders on this one! They might want to think about using that $50,000 of taxpayer money that they are giving to a bunch of lawyers for something a little more useful.
This just might be the epitome of Cape Cod Problems. Two Cape towns and the National Seashore spending hundreds of thousands of dollars in a legal battle with each other over a pile of sand that didn't even exist until recently. Go into a bar in Pittsburgh and try to explain to a few people how important the battle of the Nauset Spit is without getting stabbed in the face.
Facebook: The Real Cape
Twitter: Hippie - Insane Tony
More Articles From The Real Cape: