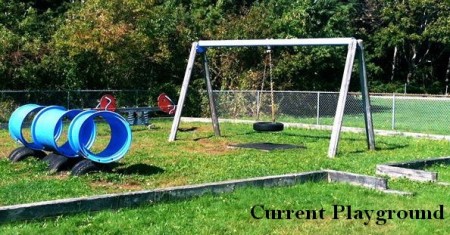 Jesus Christ was that photo taken in Barnstable or Haiti? That thing looks like some Redneck got new rims and tires for his truck and decided to make his kids a playground out of the old ones. Golden Retrievers would be embarrassed to play in that shit hole. It does look like a nice place to plant an organic heroin needle garden though.
We were sent this along with a link to raise money for a new one. We normally don't post donation pages just because of how many of them we get. If we posted them all they would be the only things on the site. That said, when I opened this link I laughed out loud for like five minutes. That is the saddest display of a playground these eyes have ever seen, I had to share it with you.
So everybody go donate some money before the rest of the world sees this abomination, and clean it up Barnstable, you're making us all look bad with that Sullivan's Tire dumpster disguised as a Big Toy.
Barnstable Community Horace Mann Charter Public School is a K-3 elementary school located in Hyannis on Cape Cod. Our current playground was built in 1989 making it 25 years old and is becoming unsafe for our students. Please help us to raise the funds needed to replace our playground. CLICK HERE for the gofundme page.
P.S. Maybe if Barnstable charged $31,000 a year like P-Town their kids wouldn't have to play in an outdoor Opium Den.
Facebook: The Real Cape
Twitter: Hippie - Insane Tony