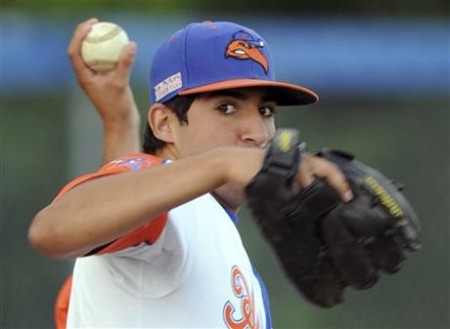 ABCnews.com – Ryan Perez might look back someday and say having Tommy John surgery on his right arm was the best thing that could have happened to his left.

That's right, his left.

The 20-year-old from tiny Judson University in Illinois is one of baseball's rare ambidextrous pitchers. He's been all the rage in the prestigious Cape Cod League since he touched the low 90s on the radar gun — with both arms — in last week's All-Star game.

He came on in the third inning and struck out the first batter left-handed, the second right-handed and the third left-handed.

"Didn't see that coming," Perez said.

Neither did the announcers on the regional telecast, fans in the stands and even some of his teammates who were doing double-takes in the field as he flipped his custom-made, six-fingered glove from one hand to the other. The 18-pitch performance earned him the West team's MVP and left all to ask themselves, "Did he really just do that?"
Excuse me? Did I read this right? While I was reading this article I checked the date three times to make sure it wasn't April 1st. Then I checked every closet in my house for Ashton Kutcher to make sure I wasn't getting punked. This dude struck out 3 people, in 18 pitches in the low 90's, using both of his arms, in one inning, in an All Star game. There is only one thing in the world I can do with both arms, and supposedly that makes you go blind.
P.S. I'm still not 100% sure that Orson Welles didn't write this article.
Facebook: The Real Cape
Twitter: Hippie - Insane Tony
More Articles From The Real Cape: