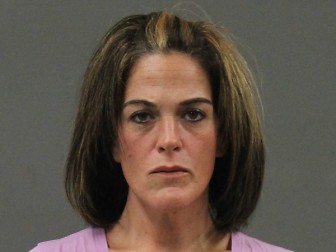 Capecodtoday.com – An off duty detective witnessed a Yarmouth woman allegedly shoplift from Victoria's Secret.

The suspect, 39-year-old Sarah I. Bryant of Yarmouth, is reportedly well known to police, according to the release.

The detective called Barnstable police dispatch and maintained surveillance, following Bryant to Jo-Ann Fabrics.  When on duty officers arrived and confronted Bryant, she reportedly had the items taken from Victoria's Secret.

According to police, Bryant is currently out on bail on five open larceny-related cases (fifteen counts total). The cases are from Barnstable District Court, Falmouth District Court and Wareham Fourth District Court.
If you're a guy you just can't help being turned on by this right? I mean this chick is out on bail with five open cases, and she is still willing to add on to that just to make sure she has some sexy lingerie for the bedroom. You simply can't teach that type of dedication to the g-string game. There's no chance in hell I'd do time for a Speedo.
I'm sure all the girls reading this will be all "eww… she's a nasty ratchet* bitch, why would you say that"? But the simple fact is that you can be a 5, but if you add a willingness to risk going to prison for some silk panties, that turns you automatically into an 8. I don't want it to be true, I don't feel good about it, but that doesn't make it any less real. Sometimes a guy just wants to know a girl is going to throw a glass at his head, key his car and put Newports out on her arm until he "loves her back".
* That was my first ever attempt at the word ratchet, this chick is definitely ratchet right?
Facebook: The Real Cape
Twitter: Hippie - Insane Tony
More Articles From The Real Cape: