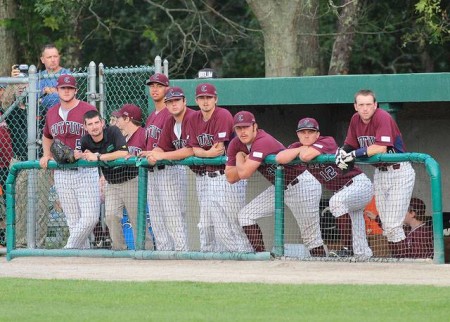 10 Cape Cod Stereotypes That Are Completely Accurate

1. People From The Cape Are Baseball Lovers

The laughably bad movie "Summer Catch" doesn't do Cape Cod League justice—nor was it shot in a place that looks anything remotely like Cape Cod. For those unfamiliar, the summer collegiate baseball league played entirely on the Cape is a breeding ground for top-level MLB talent, and is the next best thing to actually making out to a Sox game.

Actually, in some ways, the small crowds, close proximity to the players and great scenery make it even better. Running from mid-June and through mid-August, the league is one of those rare events that both true year-round Cape Codders, summer residents and tourists all check out and enjoy together.
There are 9 more of these but I will spare you the rest of the nonsense. When number one on the list is that we are all baseball lovers you can just go ahead and stop your dumb ass list right there. Do I even need to say anything here? The Cape League is awesome, everyone should be a fan, but the reality is that not even 1/100 people from Cape Cod have ever been to a game. The dude that wrote this even completely contradicts himself by saying how small the crowds are at Cape League games.
In case anyone needs more evidence that these lists are complete bullshit written by frauds, let's do a little research. By research, I mean a 2 second Google search of the name of the author and the website. Guess what comes up? The same guy that wrote this article has also written these hard hitting pieces on locations around the country….
10 Oklahoma City Stereotypes That Are Completely Accurate
10 Amarillo Stereotypes That Are Completely Accurate
49 Things You Probably Didn't Know About Wichita
11 Things Only People From Buffalo Understand
The list of lists that were all written by this one guy goes on and on, but I'm too lazy to link to all of them. The point here is that these articles are what we call click bait. They are written by some guy who has never been here, who compiles them from other peoples' lists. They are 100% designed to go viral and attract readers by suckering them in with familiarity. Just like how a "psychic" will throw blanket statements at you that relate to everyone in order to make a connection.
In the summer millions of people visit Cape Cod, so these lists pop up everywhere to attract their attention, like "Oh hey, neat I've been to Cape Cod, I bet I'll relate to this list, maybe there's even an inside joke"! Let's make one true stereotype about us. Let's make it 100% true that all people from Cape Cod universally hate lists about Cape Cod written by people that haven't been here at least twice.
Facebook: The Real Cape
Twitter: Hippie - Insane Tony
More Articles From The Real Cape: