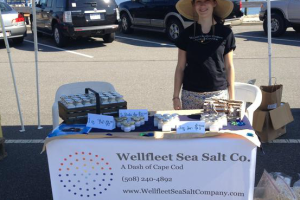 WELLFLEET

— After months of trying to find a small property on which to produce the salt they bottle and sell, Hope Schwartz-Leeper and Zachary Fagiano, the 22-year old founders of the Wellfleet Sea Salt Company, have found the ideal spot — a small parcel of land owned by Lyle Butts of Bay Sails Marine at 35 Designer's Row. But once again, the young couple who hope to be able to run their company in Wellfleet have met with another obstacle.
The above is just an excerpt, I highly suggest you read the entire article because it encompasses everything that is wrong with Cape Cod.
The story of Wellfleet Salt Company completely reinforces the stereotype that Cape Cod is not a place for young people with ambition and great ideas. If you live in Wellfleet you should seriously consider going to your towns December 5th meeting of the Zoning Board of Appeals and booing the shit out of anyone who votes against Hope and Zachary.
The rest of us should go to their website and buy some of their salt, show them they are wanted.
No we do not know these two and have never spoken to them, we just tend to like young, ambitious Cape residents with cool local business ideas that result in jobs, use no electricity, no water, and cause zero pollution. Too bad most of the people in charge don't agree.
Facebook: The Real Cape
Twitter: Hippie - Insane Tony

More Articles From The Real Cape: