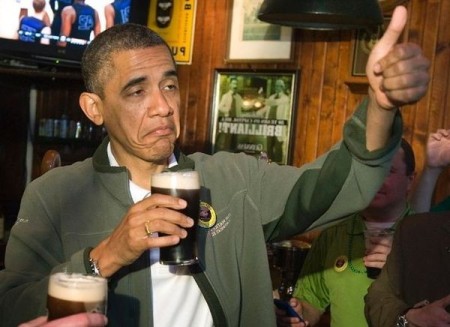 Capecodonline.com – The White House has officially announced that President Barack Obama and family will be on the Vineyard from August 9 to the 24th this year.

On Saturday, August 9, the president and first lady will travel to Martha's Vineyard, according to a White House spokesman."They will remain there until Sunday, August 24th, when they will return to Washington, D.C."

There are no public events scheduled, the spokesman said.

The 16 day vacation will be the First Family's fifth visit to the Vineyard since Obama's presidency.

While no one is confirming where their vacation home will be, The Vineyard Gazette reported Wednesday that they'll stay in Chilmark, renting a private home off North Road that belongs to to Joanne Hubschman.

The summer home reportedly has sweeping views of the Elizabeth Islands.
Perfect timing! He'll be around at the same time as The Falmouth Road Race. How great is that? Now instead of a bazillion completely mental people all over Cape Cod, we will have 2 bazillion mental people!
Obama, dude, let's have a little talk, just me and you OK? Let me tell you about a little month we call September. It is a well known fact to people that live here that September is the best month on Cape Cod. The weather is still beautiful, but you know what's missing? The 2 bazillion mental people!
Facebook: The Real Cape
Twitter: Hippie - Insane Tony