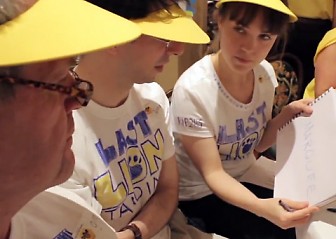 CapeCodToday.com – Attention all awesome spellers–it's time to come out of winter hibernation for the 2nd annual Cape Cod Adult Spelling Bee on April 6 from 4 p.m. to 7 p.m. at the Cape Codder Resort and Spa in Hyannis. This buzz-worthy event, now in its sophomore year, is not only a good time, but a key fundraiser for Calmer Choice.

Last year the spelling bee was developed as a more cerebral way to raise funds–an indoors alternative to the many running, walking and golfing fundraisers already happening on Cape Cod. See rules and game play here.

Participants need only gather two friends and register the trio for competition on the Calmer Choice website. Clever team names, themes and even outfits are encouraged. Individuals and companies may also opt to be an event or word sponsor.
Oh no they didn't! I need this championship for The Real Cape. I will spell circles around everyone on this peninsula. Forwards, backwards you name it. Gnilleps motherfucker, ever hear of them? They are when you spell backwards in Cranium, yeah well I'm 437-0 lifetime in gnilleps.
Here's the problem, this is teams of three. What am I supposed to do bring Insane Tony? Dude spells at a legit 2nd grade level. Bonzai? He went to ZooMass, no chance he is actually educated in anything but beer pong. Ham Sandwich? Ever read his tweets? They are in hieroglyphics for fucks sake. I suppose maybe The Glitter Ginger, but she doesn't even know the difference between then and than. John may be my huckleberry but I've only seen him use a camera and not a keyboard so I can't be sure.
I may have to run a contest to find the best Real Cape readers for the job. If you think we can take this thing hit me up and let's talk. No chumps and no half assing. Go big or go home, who's with me?
P.S. How is Calmer Choice going to handle it when I trash the set in a fit of rage if I get a word wrong?
Facebook: The Real Cape
Twitter: Hippie - Insane Tony