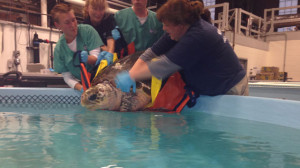 QUINCY, Mass. (MyFoxBoston.com) — A rescued sea turtle will celebrate Thanksgiving by being offered its first meal of herring and being transferred from its intake pool to a large tank.

She will be named next week. Aquarium rescue staff and volunteers pick a theme for names, this year's theme is breakfast cereals and their mascots.
Nothing and I mean nothing is as exciting as naming a rescued Sea Turtle. The main problem here is that the naming theme is breakfast cereal mascots and this particular turtle is a female. Unfortunately there are no female cereal mascots. I don't want to cause a stir but it's true. Please remember that neither The Real Cape, nor I, have anything to do with the cereal industry or the way these volunteers pick their themes for names. So please, any militant feminists out there, send your angry emails to one of the aforementioned organizations. Or if you really need something to do, Insane Tony LOVES sandwiches.
With that behind us I think I have the perfect name. Toucan Sam. First off Sam is an asexual name that is fine for a female. Secondly think of the chant. After she is brought up to weight and health and they set her off to swim for warmer water and survival, we can all sit on the beach urging her with the call of  "if all those other turtles can"…  "you too can…  Sam"… BOOM! Sweetness and sensitivity just oozing out of me this morning.
I know, I know it's fucking cute as hell. Don't ever say that I'm not a big softy. They don't call me Hippie for nothing. I'll be sure to write another blog all about the grand ceremony where I am presented with a plaque and they have me give Sam the first push towards her new life.
P.S. I will genuinely need to be put on suicide watch if they don't name her Toucan Sam.
P.P.S. If anyone from Kellogg's reads this, feel free to send me some free Froot Loops, I will write an extremely subjective blog about how good they are.
And you can't have a sappy sea turtle blog without this:
Facebook: The Real Cape
Twitter: Hippie - Insane Tony