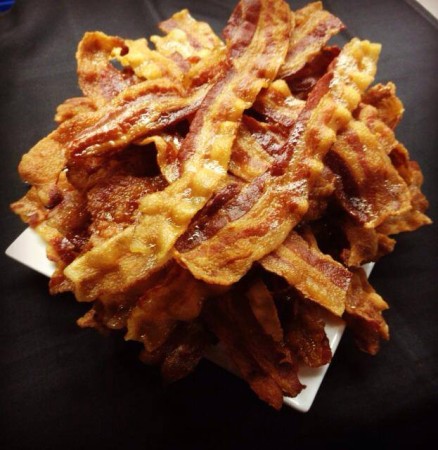 CBS – Most customers can't wait for one weekly tradition: every Thursday night at the Bog, the sweet smell of smoke is in the air for "Free Bacon Thursdays."

"Anyone who sits at the bar gets a bucket of free bacon," General Manager Lindsey McGrath explained.

"It is absolutely fresh cooked bacon that we provide for you, and it's served in a little canister, and you can snack as you please," added Chef Ashley.
Listen, is the bacon fad a little played out? Sure it is, but that doesn't mean that bacon isn't one of the most delicious things to ever roam the earth. The fact that we had to find out about this free bacon night through The Phantom Gourmet is a travesty. Nobody comes into our backyard and tells us about free bacon, it's embarrassing is what it is.
So from now on, we ask that you, the readers, keep us informed of any and all free cured meat nights anywhere on this peninsula. We can't be everywhere at once. You are our eyes and ears out there. In fact, we are willing to offer one free T-shirt to anyone who sends us a tip that results in the consumption of free meat in any form. So what we are saying is, we'll be looking into this, but until then, keep your ear to the grindstone.
Facebook: The Real Cape
Twitter: Hippie - Insane Tony

More Articles From The Real Cape: