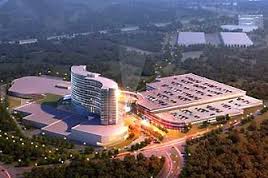 Full Story @ Wicked Local – "Today's action by the Massachusetts state Senate moves our casino plans one step closer to fruition. We appreciate the Senate's strong support for this agreement," said Cedric Cromwell, Chairman of the Mashpee Wampanoag Tribe.  "Our Project First Light destination resort casino will bring jobs and economic opportunity for Massachusetts, plus a guaranteed rate of return to the state."
Great news for the Wompanoags, it's been a long road for them and they deserve to finally get their slice of the pie, but let's have real talk for minute.
Cape Cod is full of boozebags. For 8 months of the year there is literally nothing to do on Cape Cod. Imagine what a shit show it is going to be when after a few drinks we have the option of going to that monstrosity pictured above for blackjack and free booze?
Landlords are going to have to set up checkpoints at all the entrances and demand their rents before people get in. I can see the Craigslist Ads already – Cozy 2 bedroom, hardwood floors, pets ok, no smoking, $1200 per month, credit check required as well as voluntary casino restraining order.
Facebook: The Real Cape
Twitter: Hippie - Insane Tony