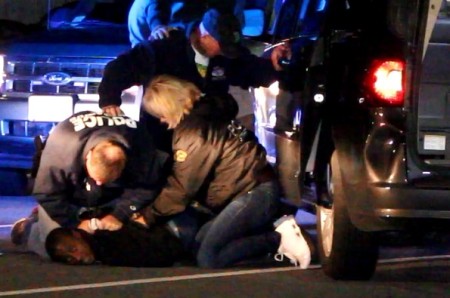 HyannisNews.com – Witnesses described it as a wild chase that lasted nearly two minutes, with multiple cars speeding around in circles in a popular HyTown parking lot.

One witness even had time to move her car up onto her store's sidewalk in order to prevent it from being hit. Suddenly the chase ended in a loud crash. One detective's SUV was struck. Another police SUV was rammed against the side of the suspect vehicle…

The suspects were now pinned in, surrounded by numerous police units. Detectives and uniformed officers rushed the vehicle and took the feisty female driver into custody. At the same time, police latched onto their prime bank robbery suspect. The female suspect reportedly put up a fight as officers brought her to the pavement, cuffing her after a brief struggle. Both suspects were eventually secured in cruisers, but not without protesting all the way…

According to Barnstable Police Lieutenant John Murphy, the passenger was Shaina "Shay-Lo" Lopes, and she will be charged with the bank robbery which occurred at the TD Bank on Main Street earlier in the day.

Shay-Lo was also the suspect in another earlier crime which took place near the McDonald's Restaurant on North Street this afternoon. Lopes was wanted for larceny from a person after allegedly reaching in through a window and grabbing a woman's purse and other belongings.
Shay Lo strikes again! A few months ago we wrote about her escaping from the back of a cruiser and getting away from police… while in handcuffs. Apparently that feat wasn't quite enough excitement for her so she decided to outdo it by about a mile.
Yesterday she snatched a ladies purse through her car window, robbed a bank, led police on a car chase, crashed into a police department SUV and then tried to take on half the force mano a mano. This chick is no joke folks, I'm pretty sure I'd rather have Katharine the shark after me than Shay Lo.
P.S. The police officers must love risking their lives chasing Shay Lo once every few months. Maybe the judge should make her bail a little higher this time?
Facebook: The Real Cape
Twitter: Hippie - Insane Tony
More Articles From The Real Cape: