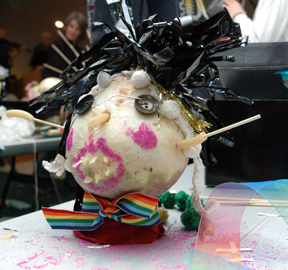 Eastham Library – The Turnip Festival House Band, also known as the Higher Ground String Band, will entertain us throughout the day. The culinary cornerstone of the Fest is the ever popular Turnip Cook-Off. Who will be crowned Turnip Queen or Turnip King? Who can peel a turnip the fastest?  Mr. Turnip Head Contest (decorate a turnip for a chance to win prizes).

This celebration of all that is turnip will be held rain or shine, so join the festivities! ADMISSION IS
FREE!

Saturday, November 22, 2014
1:00 – 4:00 p.m.
Nauset Regional High School
100 Cable Road, Eastham
Let me tell you a little something. The residents of Eastham are darn lucky I can't make this event, because everyone who's anyone knows I was born in a turnip field with a turnip in my hand. I would turnip peel circles around the competition at this thing, turn right around and take first place with my turnip casserole.
Then by the time we were done dirty dancing to the Turnip Band, the Turnip Queen would be pregnant with turnip twins. They don't call me ol' turnip toes for nothing . It's just a damn shame that I'm going to have to miss out on what is certain to be the party of the year in Eastham.
P.S. Not gonna lie, it moved a little when I first saw the photo of that Mrs. Turnip Tranny with the hair weave.
Facebook: The Real Cape
Twitter: Hippie - Insane Tony
More Articles From The Real Cape: