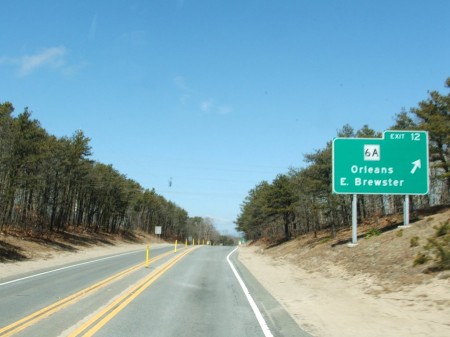 Travel + Leisure – Starting Point: Hyannis, MA

The Route: 60 miles on Massachusetts Highway 6A

What to Expect: Few North American beaches compare to Cape Cod National Seashore in winter, where the snow filters through the dune grass and gathers on the beach like a monk's mandala. Worth hopping out, but if you want to stick to your car, a brief one-mile stretch between Truro and Provincetown offers the most scenic views.
It's always funny hearing outsiders talk so highly about something we take completely for  granted. To Cape residents 6A to P-Town is a boring ride that takes forever and you're lucky if you don't get pulled over somewhere along the way. It's like running the gauntlet. It's articles like this that remind me how good we have out here on this peninsula. We literally dread the drive that the rest of the country dreams of taking just once in their life.
"Ugh I'm so pissed, I have to drive out to P-Town next week" – Cape Codders
"Hopefully someday we can take a vacation on The Cape and take a drive to P-Town" – Everyone Else
Just another example of Cape Cod problems being a little different than real problems.
It wouldn't be a national article about Cape Cod if it didn't get at least one thing completely wrong though…
Where to Stop: At any beach access point, massive black-and-white eiders (sea ducks) floating aloft the breakers and gulls battling head down into the bracing wind inspire us to dig into the sand and forge forward. Boardwalk strolls through Waquoit Bay National Estuarine Reserve andWellfleet Bay Wildlife Sanctuary offer additional protection for the birds—and you.
Hey Travel and Leisure if you start out in Hyannis and drive 6A to Provincetown you are gonna have a hard time stopping in Waquoit. You might want to think about looking at a map of Cape Cod before you publish the next article about how well you know the place, nice try though.
Facebook: The Real Cape
Twitter: Hippie - Insane Tony