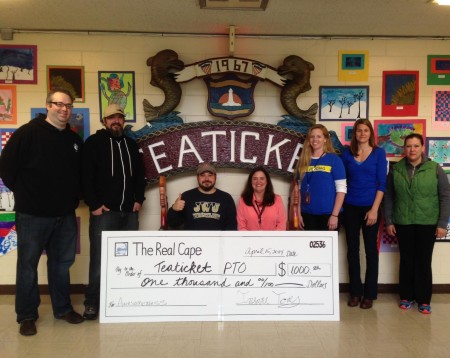 From left to right: Pat Bonzagni owner of The Beach House Restaurant, Hippie, Insane Tony, Principal Laney Cooke-Johnson, Adjustment Counselor Claire Poole, PTO Co-Pres Ginger Croom, PTO Secretary Jeannette Michaud. Special thanks to Gina Palanza who was the driving force behind this.
Today we got to do something pretty cool. Thanks to you, our readers who came out to the Kale Soup contest, we were able to donate $1,000 to the Teaticket Elementary School PTO.
The really cool part is that the money is sending eight gifted children to a special 4 day camp this summer that is all about art, science and music which are all something that we think kids could use some more of these days.
So thanks again everyone, without our readers this isn't possible and you guys are directly responsible for eight children being able to attend this camp. Kudos Real Cape.
P.S. To all of our haters… How many kids did you send to camp today? (sorry couldn't help it)
Details on the camp HERE

For a second year, the Falmouth Public Schools will be partnering with the Cape Cod Conservatory of Music and Arts, Falmouth Art Center, Falmouth Museums on the Green, the National Oceanographic and Atmospheric Administration, and the Salt Pond Areas Bird Sanctuaries for a 4-day "Inspired by Nature" experience. The program runs from Monday, June 30th to Thursday, July 3rd, from 9:00 AM to 1:00 PM each day.

This year's theme will focus on bio-acoustics and how nature has inspired and shaped the way people communicate. Students will study sound as it moves through air, water, music, art, and history, exploring how whales sing, bats screech, and osprey squeak and how this varied knowledge has been transferred to inventions, works of art and music, and scientific discoveries.

Corine Adams, art teacher at Falmouth High School, and Dr. Linda Werner, technology teacher and STEM Curriculum Leader at Morse Pond, will be the lead teachers for this program, coordinating the learning activities with representatives from the other organizations.
Facebook: The Real Cape
Twitter: Hippie - Insane Tony