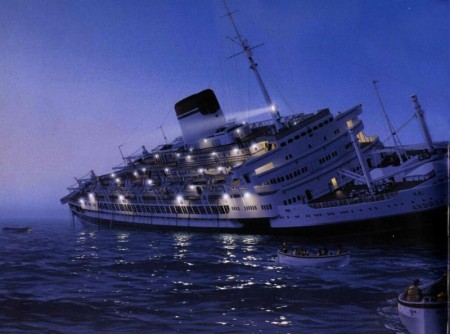 CapeCodToday.com – On this day in 1956, two ocean liners collided in thick fog, approximately 50 miles south of Nantucket.

The Stockholm had just left New York City bound for Sweden. The Andrea Doria was due to arrive in New York at 9:00 o'clock the following morning.

The three-year-old Italian liner was not only one of the most luxurious vessels afloat but was considered the safest. She had the latest radarscopes and was built with watertight compartments. Nevertheless, 11 hours after the Stockholm rammed her broadside, the Andrea Doria capsized and sank in 225 feet of water.

Thanks to one of the most remarkable rescues ever conducted at sea, all of the 1,706 passengers and crew who survived the collision made it safely back to land.
All I can ever think about when I hear stories of the Andrea Doria, is poor George Costanza losing out on that great NYC apartment.
P.S. The Andrea Doria was thought to be unsinkable. Sound familiar? I think there was some other big boat in history that everyone said was unsinkable. Maybe we should stop saying that about boats, doesn't seem to work out so well.
Facebook: The Real Cape
Twitter: Hippie - Insane Tony