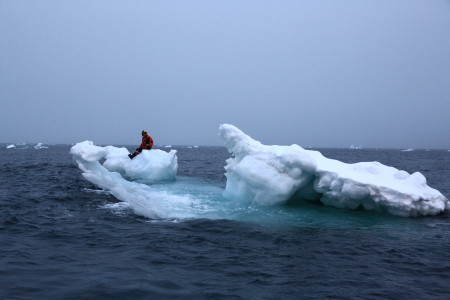 CCT – On this day in the bitterly cold winter of 1936, as reported by the Associated Press –

"Seven CCC (Civilian Conservation Corps) youths, marooned on floating ice in Cape Cod Bay since noon Sunday, were rescued by Coast Guardmen today, 22 1/4 hours after they had been cast adrift when ice broke from the mainland at Brewster.

"The rescue was accomplished with a small boat which Coast Guardsmen pushed over the rough, floating ice after the patrol boat Harriet Lane failed in efforts to buck through the thick ice.

"The youths were in two groups a mile apart. The quarter-mile stretch of ice that carried them seaward while they were out walking split during the night and the marooned youths were separated into groups of seven and two.
I don't really have anything funny to write about this. I'm just putting it here for any of you out there that are dealing with kids whining about the weather. I figure when you get sick of them crying you can tell them the story of the these kids getting Shackletoned in the middle of Cape Cod Bay and shut 'em right up.
I don't care how cold they've been at the bus stop, it can't compare to spending 22 1/4 hours floating around on an iceberg. If this happened today I don't think anyone would survive, kids back then were probably wearing rabbit fur seal skin jackets and shit. I'd imagine 22 1/4 hours is a little too long to spend on an iceberg in lacrosse shorts and a hoodie. Plus, I'm not sure what would kill them first, hypothermia or the iPad withdrawals.
Facebook: The Real Cape
Twitter: Hippie - Insane Tony
More Articles From The Real Cape: