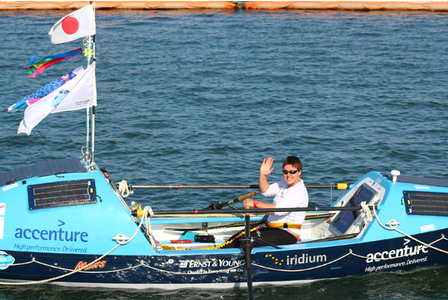 CapeCodTimes.com – Sarah Outen's rowboat "Happy Socks" is up on blocks in a boatyard with a fresh coat of red bottom paint. It's dwarfed by the cabin cruisers and fishing vessels around it, with their powerful motors and sleek, sturdy hulls. But this tiny vessel, with its enclosed bow and stern and open rowing platform, will travel farther, and likely endure more over the next four months than any of her sturdier-looking brethren.

Outen, a native of England, rolled into Chatham a week ago after a fall and winter cycling through record-setting cold and snow from Alaska, across the Canadian prairies, and then into the U.S. She's had just a month to prepare for the final leg of her 25,000 mile, 4½ year round-the-world journey by rowboat, bicycle and kayak – a 3,000-mile row across the Atlantic.
4 1/2 years?!? 25,000 miles?!? This woman is no joke. I'm not exaggerating when I say I don't think I've ever done anything for 4 1/2 years straight, let alone circle the globe on a rowboat, bicycle and a kayak. Talk about making the rest of us feel bad about ourselves, couldn't she have at least taken a Greyhound across Canada?
You know what? Sarah Outen just motivated me. I just might put on some pants today. I usually don't even think about it until Thursday or so, but I think after reading this I am turning over a new leaf. I wonder if touching the people the way she has touched me is what keeps her going. Maybe she'll read this and knowing that she motivated me to get dressed on a Monday is what will get her through the final 3,000 miles of her journey. You're welcome for the motivation Sarah.
P.S. Let's all hope Sarah makes it further than those two jackasses from Australia that left during the worst winter storm we've had since the one that wiped out all of our Wooly Mammoths.
Facebook: The Real Cape
Twitter: Hippie - Insane Tony
More Articles From The Real Cape: