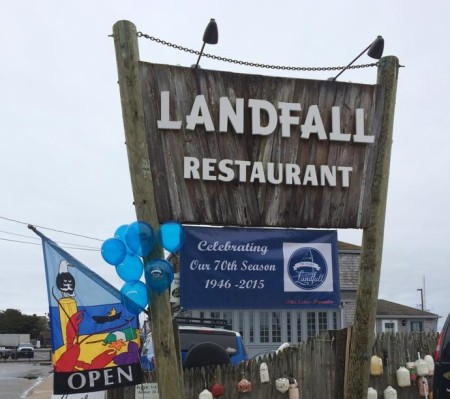 CapeNews.net – For many years, the Landfall Restaurant in Woods Hole has been a magnet on Sunday nights throughout the summer, attracting a young crowd to listen to live bands.

But an April 6 Falmouth Board of Selectmen decision to cut short the Sunday music license prompted owner Donald A. Estes to disband the Sunday entertainment.

"How can you have a tourist town without any nightlife?" Mr. Estes asked. "Pretty soon there won't be any entertainment after midnight in Falmouth. It won't be too much fun for young people to come to, or for people on vacation."

The board approved an entertainment license good until 1 AM Monday through Saturday, and until midnight on Sundays, an hour earlier than previous summers. The restaurant patrons do not clear out until 11 PM, which does not leave enough time for music, he said.

He called the Sunday nights an "economic engine" that provided jobs for bartenders and a regular place for local musicians to play.

"There are very few places in Falmouth like this," he said.

The restaurant had 30 nights of music last year, resulting in just one complaint, he added.

Over the years, Woods Hole resident Thomas Crane had made formal complaints about the late night music emanating across the water from the restaurant to his Juniper Point Road home a quarter of a mile away.
For those of you that aren't aware, Sunday nights at The Landfall in Woods Hole are an institution. It was one of those things where you didn't ever have to look anything up, ask where your friends were going, or pine over any decisions. If you were going out on Sunday night, you went to The Landfall to see The Old Silver Band, end of story. It's been that way for years.
Now, because of one dude that lives a quarter of a mile away, thousands of people will no longer be able to enjoy one of the most popular nights the Upper Cape has to offer. It is simply asinine to think that one guy can ruin that many people's good time. Falmouth should be ashamed of itself for this one.
Do you see that photo up there? It says "celebrating our 70th season". SEVENTY. This is not a new thing, The Landfall and the Estes family have been doing this, and doing it well, for a very long time. Now it seems like if it were up to the town they wouldn't be doing it for much longer. This was such a popular night that I'd imagine it has to be taking away a good sized chunk of their bottom line, and it has been taken away by the very town they have been employing, feeding and serving for 70 years. It's appalling.
Where does this end? The Landfall is surrounded by other businesses on all sides. The Steamship is right next door, WHOI and MBL are neighbors, there's a half dozen other restaurants and bars within a few hundred yards. Downtown Woods Hole is as commercial of an area as there is on Cape Cod. If we can't have fun there, where are we supposed to do it? This is a huge loss for The Landfall, Woods Hole, Falmouth, and Cape Cod.
The most frustrating aspect to all of this Fun Police nonsense is that we, the silent majority, outnumber them by such a huge margin, but for some reason our representatives cater to their every whim. What kind of democratic society are we living in when ONE man can end the enjoyment of thousands?
The struggle is real folks, it's time to take back Cape Cod.
Facebook: The Real Cape
Twitter: Hippie - Insane Tony