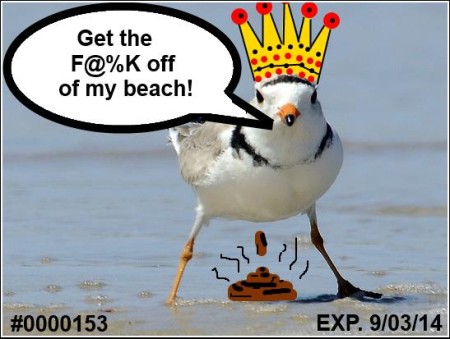 CCT – The Cape Cod National Seashore (CCNS) announced Tuesday that the off-road vehicle corridor is at near closure status. According to a CCNS release, less than half a mile is open for daytime off-road vehicle (ORV) access. Given the closures, parking fees are waived for ORV permit holders at Race Point and Herring Cove beaches in Provincetown and at Head of the Meadow Beach in North Truro, according to Price's Tuesday announcement.

The near closure status is a result of beach cuts and piping plover hatchlings, according to the release. The closures are temporary and ORV access will reopen as soon as the plover and other shorebird broods fledge or move a safe distance from the ORV access areas.
An entire half mile just for little old us? And the Plovers get the rest of the National Seashore? Seems like a legit deal to me. It is such a generous gesture for the Seashore to waive the fees for the permit holders that can't use what they already paid for though, somebody call Pepperidge Farms and get these saints a cookie.
Maybe all the ORV owners should just trade in their vehicles for hot air balloons. That way they can still enjoy the seashore but they won't be endangering any Plovers. Although it would probably only be a matter of time before the Seashore people banned the balloons because they ruin the coyote's view of the ocean.
Or, maybe an even better idea is for all of us residents of Cape Cod and taxpayers to decide to just stop paying these people's salaries. I wonder how quickly they'd open the beaches back up when faced with the reality that we, not the birds, pay for their careers? I highly doubt the Piping Plover's would even start them a Gofundme page.
Facebook: The Real Cape
Twitter: Hippie - Insane Tony
More Articles From The Real Cape: