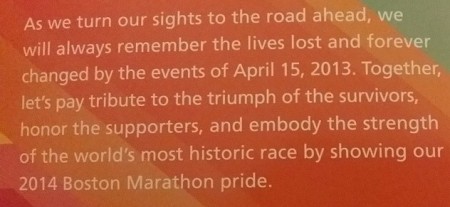 *This was on the inside cover of a pack given to all runners when you picked up your number, it also contained a bracelet made from a piece of banner from the finish line last year
I begin this post by first stating that I don't know a single person who wasn't somehow affected by the Boston Marathon bombings. This is my story and I share it for no other reason than to hopefully pass on two important lessons that I unfortunately had to learn through the single most horrifying, traumatic and life changing experience I've ever witnessed.
Those lessons are to first; never neglect to see the good in people and second; don't wait for something awful to happen in order to realize how loved, valued and important you are. I had the unfortunate timing to have been waiting for a friend at the finish line of the 2013 Boston Marathon. Roughly 5 minutes before the first bomb went off, I posted a picture on Facebook of a group of marines crossing the finish line carrying all of their gear and a giant American Flag, quoting their dedication and perseverance. I don't need to go into detail about what happened next.
The experience of being at the finish line last year is one I'll never be able to erase from my mind. The sights, smells and screams are something I still have nightmares about. I've become a very anxious, jumpy and often irritable person. But with the help of the people I'm about to mention and thank, I made it my mission this year to somehow find the good in it all and come out on top.
For those who aren't avid runners or just aren't familiar with marathons in general; the Boston Marathon, even before the bombings, has always been one of the most physically challenging and most difficult marathons to get into in the Country. Typically, the only way to gain entrance is to qualify via a pre-approved marathon, outside of Boston, with a ridiculous completion time or have your entrance accepted through a pre-approved charity, where you then have to raise a minimum of $5,000 to compete.
I got into the 2014 Boston Marathon via a special invitational entrance bid that the Boston Athletic Association created for the first time in its 118 years of existence. In order to qualify for entrance you had to have previously run a marathon and, what I found to be even harder, write a 500 word essay on how the Boston Marathon bombings affected you. For someone who writes as much as I, you'd think 500 words would be easy; it took me three weeks. I only told two people I entered, and even then I waited months until I spoke up. Thousands of applicants; hundreds with stories and experiences I'm sure similar, if not worse, than mine. I never in a million years thought I'd be chosen, but I was.
I just want to run. I want to run for me, I want to run for Boston and I want to run for everyone that no longer can or had to relearn how as a result of that day. The hardest part for me has been accepting the fact that although I wasn't physically injured, that doesn't mean I don't have scars. I was hurt that day. My life was changed. And like Jord told me, now I have to use it.
*The above excerpt from my entrance essay was published and now hangs in the Boston Marathon memorial at the Boston Public Library

Before I continue I want to make it known that just admitting the fact that I've been so dramatically affected by something that ended lives, took limbs and left countless others physically impaired, has taken me 12 months to admit. I felt undeserving of such trauma and heart ache because I was lucky enough to not have suffered any serious physical injury and that all of my loved ones made it home safe that day. But for someone who is so used to being unemotional, happy and carefree – what happened that day changed my life.
Training was a nightmare. As if the snow and ice, old injuries, torn TI band, broken toes and a dislocated hip didn't make it hard enough, I also had a lot of mental and emotional things I was trying to work through as well.
But I did it. I ran the 2014 Boston Marathon. And not only did I do it; I did it twice. I trained and completed two full marathons in less than 6 months.
But I didn't do it alone. I did it with every single person that reached out, shared a thought or gave me a pat on the back this past year, and those are the people this post is for. It's with nothing but love, sincerity and genuine gratitude that I thank the below;
My parents: Thank you for supporting me even when I pushed myself, and my body, way past the point of unhealthy. Thank you for giving me the privilege of taking a time-out from work and life to move home and refocus. You never discouraged or told me I couldn't do it, and that alone was enough to keep me going.
My sisters: Lindsay: all of the emotional support you provided in addition to the texts and reminders of how important I am to you and your kids provided the motivation I desperately needed at times. I love you for always listening and standing up for me, and for being my biggest supporter. Pook: to this day I don't know why or how your phone number was the only one I could remember when that man's cell phone came around and everyone only had one chance at a call, but you were clearly on my mind at a moment of sheer panic. The unconscious dialing and message I left you goes to show how much I love and trust you.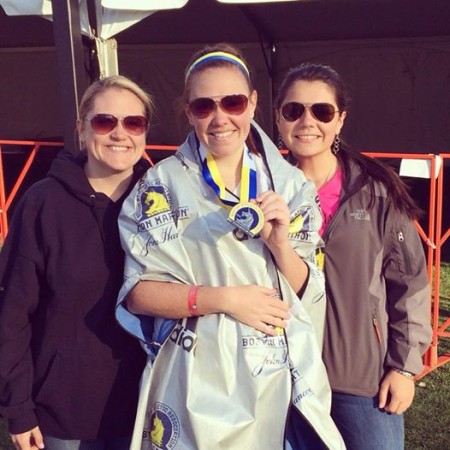 Juan: I don't even know where to begin. All we went through that day, all of the fear paired with chaos, panic and confusion. You never flinched. When I think of strength and compassion, I think of you. You got us, your family, your beautiful wife's family; all of us..you brought us through this. When that first bomb went off, then the second..we all looked at you for direction. By staying calm, by exhibiting and showing that we needed to focus on helping other people and remaining nothing but collected throughout the entire day, YOU got us through that. I'll never forget it, and to say I'm thankful you've become a part of my family is an understatement.
Hadrien, Kate, Ben, Jose, Juliana, the Molina's & the Mansfield's: I know I don't have to put into words what that day, that experience, the feelings, everything means to us. Just know that I think of you guys every time I remember that day, and your hugs, kind words and support prove that we'll always be there for each other. I'll never take that for granted.
My best friends: I've always known how blessed I was to have you in my life. Through every heart break, bad day, job change and crisis you've been there. But nothing, and I repeat absolutely nothing, prepared me for all you did this past year.
Dana: your hourly texts, emails and phone calls checking in to make sure I'm okay remind me that I'm truly never alone and that I always have someone in my corner. Just one look and I know you can read my mind.
Selby: Your fearlessness in asking me questions immediately followed with sympathy and hugs, laying by my side in a Xanax induced zombie state…you made me comfortable in a situation that I didn't know how to work through.
Kristen: the patience and understanding you've shown while listening to me cry about things out of my control is nothing short of amazing. You always have a way of making me feel better, even from thousands of miles away.
Brigid: thank you for never questioning when I have an unsolicited panic attack, but always promising to get me wherever I need to go and to never arrive alone. You helped me feel normal when I felt like no one understood and that I'd never belong again.
Mary: Thank you for teaching me how to run, reminding me when to give my body a break and for always being at the finish line, even if it means flying to Chicago. Thank you for always understanding when I'm emo and sharing in the frustration and the heartache.
Amanda: thank you for coming to Chicago and recognizing how hard that race was for me and acknowledging all the commitment it took. Your confidence in my ability brought me to the finish.
Liz: You always seemed to be the lucky one who ended up with me after a night of heavy drinking when the tears would flow and the feelings I suppressed for months would come pouring out. Thank you for wiping my tears, always giving the best advice and for supporting me through this crazy journey. Thank you for hosting my family so they could be at the finish line yesterday – those moments were something I'll never forget.
Jordan: the first person I called when I finally got home after hours of being stuck in the city, the one who sat on the other end of the phone and let me cry until I fell asleep. Thank you for letting me lean on you so heavily this year and for always being brutally honest, for telling me like it is and for teaching me how to channel all of this into something bigger than me. Thank you for always being at my side and putting things into perspective in a way that others can't. Your name is now hanging in the Boston Public Library and I can't think of anyone more deserving of that.
Justin: Thank you for staying in constant contact with me that day, relaying information to make me feel as safe as I could and for checking in on me even weeks after.
My former roommates: Liz; I'll never forget the moment you finally walked in the door. You didn't even put your purse down; you just came straight into my room, found me on the floor and held me while I cried. Ali; you're the sole reason I finally sought out the professional help I needed to get back to me, and literally held my hand the entire time. Thank you both for knowing when to leave me alone and when to be there. For never getting angry when I was short or rude and for loving me for who I am.
My previous bosses Jen & Courtney: Thank you for allowing me time off to work through everything and for never making me feel like I was a burden. Thank you for the understanding you showed during the many, many mistakes and mental breakdowns upon my return and also for the support and encouragement in my very difficult decision to resign and take time to heal.
Lindsay B: In the short amount of time we've known each other you've provided more support, encouragement and compassion than some people I've known my whole life. Thank you for always listening, making me laugh and for standing in the rain with me while I cried like a fool during the Memorial service on April 15th.
My Real Cape Family: Without even really knowing me that well, you all rallied behind me, shot me messages of encouragement and hugged me every time I walked into a room without uttering the slightest sympathy that you KNOW I hate. Your acknowledgements further validated that you're the best group of guys a girl could ever hope of working with. Thank you for supporting me and letting me use this website as my outlet to heal and move on.
To everyone above and those I'm sure I missed; I never had to ask any of you to be there because you were by my side before I even knew I needed you. THANK YOU.
Lastly, I want to thank the man whom without which I absolutely would not have had the courage or commitment required to restart my career, get my first apartment, create this blog or enter the marathon lottery. Scott, you're the one who bared the brunt of my anxiety and aggravation. You had me at my absolute lowest and yet refused to let me recognize or feel that way. You taught me that not all scars are physical and that it's okay to take time to heal. You helped me understand that showing weakness or emotion doesn't mean you're weak, but that it in fact makes you stronger.
I can't thank you enough for supporting me and giving me my courage back, for reminding me of who I am. The hours spent in my unfurnished apartment with you just listening, never pushing, just listening, truly gave me the strength I needed to begin the healing process. Thank you for teaching me how to discuss my feelings, that I never have to explain anything to anyone, and that my sensitivity is deserved, respected and most of all understood. Without that, I never would have had the courage to write my entrance essay let alone submit it.
Thank you for training with me. Thank you for always answering every call and text, for acknowledging how hard this was for me and for serving as a reminder of why I couldn't give up. Thanks to your family, who welcomed me with open arms from day 1 and who continued to support and encourage me all the way up to the finish line.
I credit you with opening my eyes to the opportunity of a lifetime which was turning the worst moment of my life into the best. And for that I can never thank you, but am truly honored and beyond fortunate to have had you hold my hand and walk me through the worst period of my life.  THANK YOU.
During one of my PTSD therapy sessions, my Doctor asked me to write down words that I would use to describe that day. I wrote down; inspiring, enlightening, motivational and encouraging. Yes, those two men took my sense of safety, months of my life, what used to be my comfort ability in crowds and even the act of running for a while. But what they gave me in return is a life lesson on how to give and be loved, how to use hate to accomplish things I never thought possible and more importantly, a new found respect and hope for people in general, especially the people of Boston.
The most prominent images and memories from that day are those of complete strangers helping one another, calming each other down and doing anything and everything to get through a horrible act of terrorism. I saw a sign once that said "Boston runs to. Not from." That statement couldn't be more true.
And now, I'm beyond thankful and fortunate to say that the experience of running the Boston Marathon yesterday has given me the ability to erase any bad memories I had with nothing but good. As I ran along that 26.2 mile course, the spectators, other runners, police officers and soldiers lining the way was unreal. I've never seen anything like it.
Never be afraid to say I love you, tell someone how much you appreciate them or realize how much YOU are actually loved by the people in your life, even when they're not present. Always go in for that extra kiss, hug as many people as possible and take the beach way whenever you get the chance. Don't wait until you think you've lost everything to realize what you've got. And on the off chance you do, remember the image of that group of marines I described crossing the finish line carrying their gear and American flag; that's what I do.
GG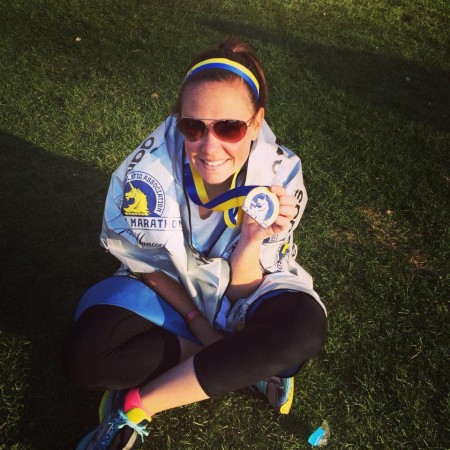 I did it!
Facebook: The Real Cape
Twitter: Hippie - Insane Tony

More Articles From The Real Cape: