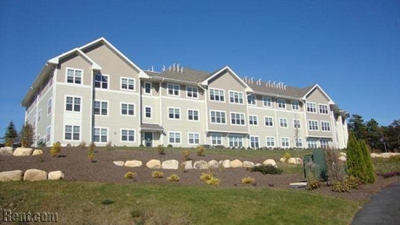 MONUMENT BEACH — Bourne police at 11:08 Saturday night responded in force to a call about a reported gunshot at the Canal Bluffs apartment complex on Harmony Hill Road, Monument Beach. This is the tenth such call about gunfire in the area off MacArthur Boulevard in four weeks.
OK first question is how the hell did anyone get a building permit for that monstrosity? This isn't Dorchester, this is Cape Cod. This place looks like those Keystone Apartments you can see from the highway on the way to Boston. According to the infallible Wikipedia, Bourne has 18,721 residents. I'm no mathematician, but by my calculations that means that all but 7 people in Bourne live in that apartment building. (What I'm saying is that it's huge)
But anyway, TEN. There have been ten reports of shots fired there. What's going on down there? Is there a family of 8 point bucks living in apt. 7B? Are the Gambino's in a major battle with the Russians to see who can control the lucrative Bourne territory? Plus, It's all one building, how is it that after gunshots are fired, 800 people can't come out of their apartments, point, and say "Yup, right there, it came from right there, 2A. Case solved."
Clean it up Bourne or we are changing your name to Died.
Facebook: The Real Cape
Twitter: Hippie - Insane Tony