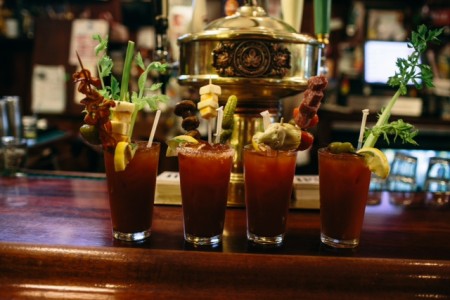 It's the fake 4th of July in Falmouth tomorrow! The Sunday Funday Bloody Mary Brunch at Liam Maguire's is pretty famous at this point, but in case you were living under a rock, or maybe you just recently made it to the Cape for the summer, we will run it down for you. The best way to put an end to your hangover is with a little of the hair of the dog that bit you. You might as well do it with what are quite simply the best Bloody Mary's on Cape Cod. The build your own menu means you can customize your own Bloody to perfectly fit your taste. You want 10 strips of bacon and a tornado potato? You got it.
The day starts off at 11 a.m. with some great mellow acoustic music from Daniel Byrnes and a perfectly non pretentious atmosphere to revel in. Keep your sunglasses on if your hungover, nobody will mind. Sunday Funday at Liam's is nothing short of a hedonistic playground. Take a gander at this…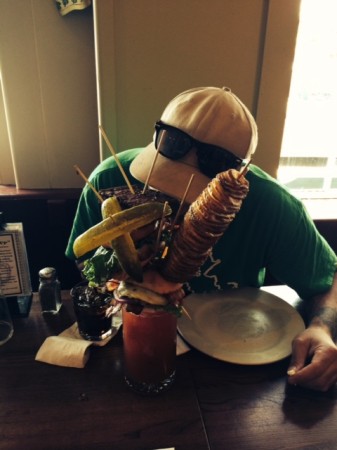 That's the Great esCape Bloody Mary, it's the best thing that's happened to me yet this summer. I have dreams about it during the week. I can't think of any way to celebrate the fake 4th than to begin with a bad ass Bloody Mary brunch and end with Fireworks. USA! USA!
Here is the entire build your own bloody menu in all of its glory followed by a bunch of food selections…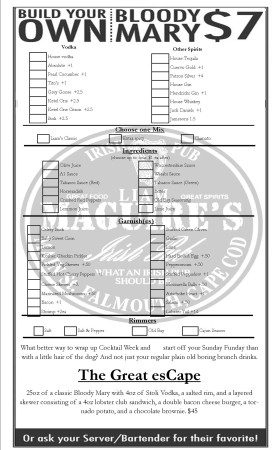 Sunday Brunch
Breakfast Burrito
Scrambled eggs, bacon, cheese, and two hash browns with an avocado chipotle aioli.
Irish Breakfast
Two eggs cooked to order, two rashers, two bangers, black and white pudding, home fries, and a fried tomato. Served with brown bread.
Crab cakes Eggs Benedict
Two English muffins topped with jumbo crab cakes, Irish bacon, poached eggs and our own homemade hollandaisesauce. Served with home fries.
French Toast
Three slices of thick cut Sourdough bread dipped in our own cinnamon French toast batter. Served with a side fresh fruit.
Chicken & Waffles
Habanero Guinness waffles with two fried chicken breasts, smothered in Southern style white gravy, made with our own bangers. Served with REAL New England Maple syrup and pickled vegetables.
So the bottom line here is that this is going to be an absolutely perfect way to knock the cobwebs off from Saturday Night and start Sunday Funday with a bang. The Real Cape will be there, will you?
Facebook: The Real Cape
Twitter: Hippie - Insane Tony