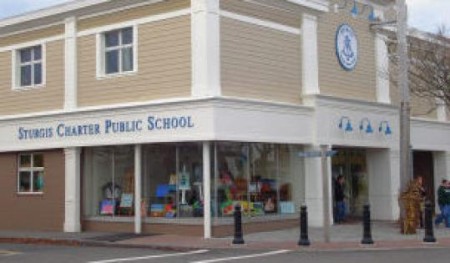 Globe – A Cape Cod charter school is the best place to get a public high school education in Massachusetts, according to the latest rankings from US News and World Report.

The publication released its findings this week, placing Sturgis Charter Public School in Hyannis atop the list for the state. Sturgis ranked 32d nationally.

US News and World Report's findings are based on student proficiency in English and mathematics, as well as college readiness. Student-teacher ratios for each school are also factored into the findings.
What the hell is going on around here? A high school on Main St. in Hyannis is the best in Massachusetts? A street that is so infamous that they had to create a curfew because of it?
I have to profess that I know nothing about Sturgis. I did some quick research to find out why this school is running circles around every other Cape school and it seems there are two HUGE factors. First off, there are more kids on the waiting list to get into Sturgis than there are students enrolled. When you have that pool to pick from and less than 50% make it in, that seems like a slight advantage.
Second, there is a 10-1 student to teacher ratio. That is way above public school averages and even beats private school averages. Of course the school is thriving, they only accept less than half the applicants and then put them in ten person classes, plus they don't have to worry about getting stuffed into lockers by the "average" kids.
I'm not knocking it, good for Sturgis and good for its students, it just seems like if we can do this for these kids, we should be able to do it for all of them. Kids shouldn't be punished with giant classrooms just because they like sports, or girls, or not going to Main St. in Hyannis.
So my point is this, if your kid is in another public school on the Cape and you're pissed at the school for not making this list, don't be. Just remember that a school that lets less than half of the applicants in shouldn't really be classified as "public". Your kids high school would rank pretty high if they just chopped the bottom half of the students right out of it too. Seems to me that Sturgis should be atop the list of "exclusive" high schools in the state instead of the "public" list. As far as I'm concerned if not everyone can use it, you can't call it "public".
Again, not knocking Sturgis, sounds like it's a great school, we just think if we can provide such a great education for those kids, we should be able to do it for all of them.
Facebook: The Real Cape
Twitter: Hippie - Insane Tony
More Articles From The Real Cape: