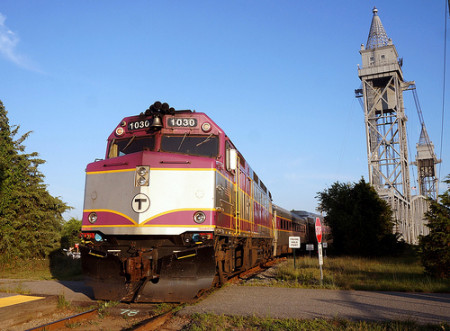 CapeNews.net – An overflow crowd of residents packed the conference room at the Bourne Veterans Memorial Community Center Monday night, December 1, to learn more about and comment on plans to build a new railway platform in town, just south of the Cape Cod Canal, at the foot of the Bourne Bridge.

The platform would serve the CapeFLYER seasonal passenger train.

Some residents at the meeting worried that the new platform would generate too much car traffic in the already heavily-traveled area, when people are picked up or dropped off at the train.
This really is a tough one. On one hand it will attract more tourists and keep people from getting off the train on the other side of the canal and driving over the bridges onto Cape Cod. On the other hand, adding a train station to the Bourne rotary is kind of like serving Ebola sandwiches at an AIDS clinic. Everyone there is already screwed, do we really need to add to their misery?
How about we use this money and energy on some new bridges? Maybe we should focus on getting the 4 million people in cars over the bridge in less than 18 hours and worry about the 16 people on the train a little later?
Facebook: The Real Cape
Twitter: Hippie - Insane Tony
More Articles From The Real Cape: