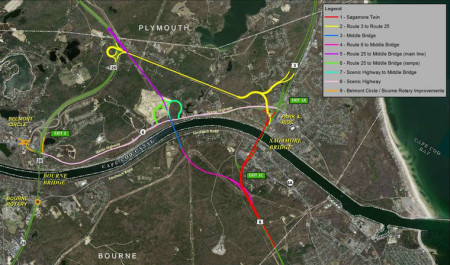 CapeNews.net – The curtain came up yesterday, October 2, on the state's plan for construction of a third automotive bridge across the Cape Cod Canal.

Top state transportation officials met in Boston with members of the Cape and Islands legislative delegation to describe their concept for building and financing the span.

Yesterday's discussion is the first of a series of outreach meetings planned by state transportation officials in the coming weeks and months with local officials, civic and business groups, and residents on Cape Cod.

The first meeting may be held as soon as October 15, according to state Representative Randy Hunt, R-Sandwich, who attended yesterday's briefing.

The officials anticipate that the construction of the bridge will take between six and eight years.

Given an estimated period of about two years prior to construction for tasks such as permitting and engineering, the bridge could open between 2022 and 2024.
Six to eight years to build? In the 1930's they built both the Bourne and Sagamore bridges in two years using elbow grease and wooly mammoths. How is it that we are less efficient at building bridges now than we were 80 years ago? We build cars faster, we run marathons faster, we heat food faster, how is it that we can't put up a bridge faster? We've learned how to beam the internet into our pockets from space but a river crossing? Sorry, that's gonna take 4 times as long as it did back before we had rubber tires and transistor radios. Insanity.
P.S. Don't forget this is Massachusetts. Saying a highway project will take 6-8 years is code for fifteen years and triple the budget.
Facebook: The Real Cape
Twitter: Hippie - Insane Tony