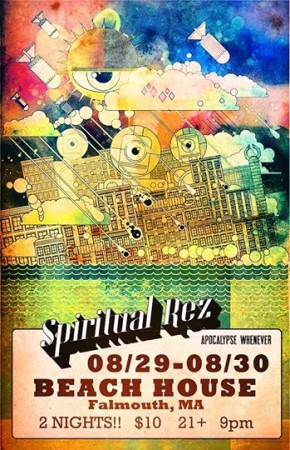 (Editor's note: How about Insane Tony coming out of the wood work with his first post in seventeen years! Last time we saw Spiritual Rez they absolutely destroyed it at The Real Cape Music Festival. Tony may be insane, but he's right about not wanting to miss these guys.)
Most of you know that a shit load of things get better at the end. Happy endings after a massage, that beer after last call are just a few. Summer on Cape Cod is no exception. Labor day is a time for us to celebrate that we get our man made island back to our selves.
We all have the chance to go out in style at The Beach House the next two nights.  Honorary locals Spiritual Rez are gonna be blowing the roof off the place as usual. As a special addition tonight they are bringing along the up and coming hip hop band Viva La Hop. This combo is going to be deadly to the dance floor at The Beach House. Trust me on this one folks, you are gonna need to call in a dancing shoe back ups for yourself.
So come on down and celebrate with a good old fashion boogie down. Face it, you owe it to yourself after the partying and work you did all summer.
P.S-I just got a call to host tonight. BAAAM. See you there.
Facebook: The Real Cape
Twitter: Hippie - Insane Tony