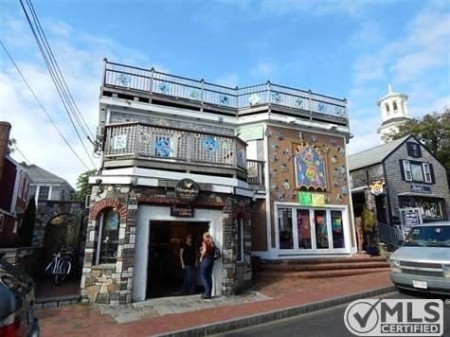 CapeCod.Curbed.com – Back in 2012, Provincetown's iconic Shop Therapy and Spank the Monkey moved their headquarters from 344-346 Commercial Street over to 286 Commercial Street – where they continue as one of the Cape's best spots forbizarre, weird and WTF shopping. The shop therapists then opened Lola Love in their original storefront spread, but in November 2013, 344-346 Commercial Street hit the market for $999,000. Alas, just two months later, the circa 1890 commercial listing has met with the pricechopper and is now hoping for$899,000.
What a bargain! Who's it gonna be? Who's gonna step up to the plate and buy this so we can make it The Real Cape headquarters? What better building could there be for our offices than the place where every person who grew up on Cape Cod bought not only their first weed pipe, but their first sex toys as well?
This building should be purchased and preserved by someone who will respect its legacy and I assure you The Real Cape would take stewardship of 344-6 Commercial Street very seriously. We would be sure to maintain a high level of debauchery every single day. I know one of our readers has $899,000 burning a hole in their pocket so let's team up to preserve this landmark of drug use and kinky sex… with more drug use and kinky sex! I shall from this day forth be known as The Caligula Of The Peninsula!
Facebook: The Real Cape
Twitter: Hippie - Insane Tony