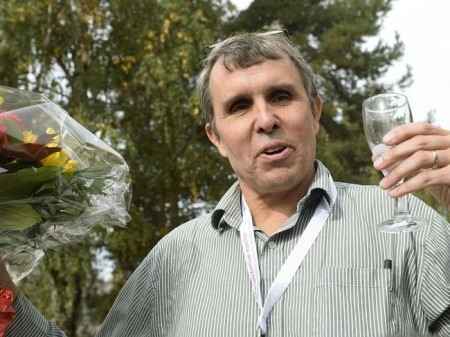 CapeCodOnline.com – When Eric Betzig needed to put a hand-built, super-high-resolution microscope through its paces, he brought it to a place where he could find the brightest biologists in the nation for the test drive: the Marine Biological Laboratory.

"It's the place to be in the summer," he said. "Just about anyone who's anyone in biology, all working in one spot, working ridiculous hours and a bunch of great students willing to try anything — it's a great proving ground."

On Tuesday, Betzig was one of three scientists awarded a Nobel Prize in chemistry, all of whom worked to allow optical microscopes to observe individual molecules at a resolution far higher than once thought possible. Also winning were Stefan W. Hell of the Max Planck Institute for Biophysical Chemistry and William E. Moerner of Stanford University.
Hell yeah! Everyone knows that if you want to observe individual molecules you better get your ass to Cape Cod! We observe the shit out of individual molecules!
I don't know about you but I haven't observed multiple molecules at once in years, that's poor people shit. It must suck to only be able to observe dozens of molecules at a time. I really feel bad for the rest of the world sometimes, they'll just never understand the Cape Cod quality of life.
Cape Cod, come for the beaches, stay to observe individual molecules!
Facebook: The Real Cape
Twitter: Hippie - Insane Tony
More Articles From The Real Cape: