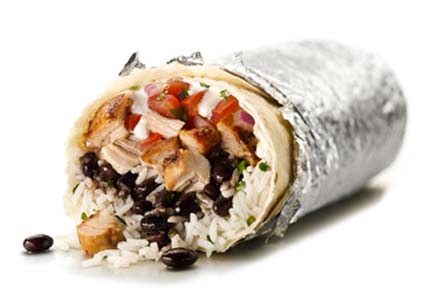 CapeCodOnline – A man and woman from Mashpee were arrested by Sandwich police Tuesday night and charged with taking part in a drug transaction.

According to Sandwich police, officers conducting surveillance of local parking lots saw a transaction between occupants of two vehicles. They later pulled those vehicles over and, with the help of Yarmouth police Officer Sean Gannon and his drug-sniffing dog, searched the vehicles and the four occupants.

Police said they found $846 in cash in the truck, several grams of cocaine and marijuana hidden in a breakfast burrito and five Suboxone pills on Hendricks.
Ummm… hello? Once again these police reports leave out the most important part of the story. Where did this burrito come from? Talk about stimulating the local economy. If they released the name of the restaurant that is slanging cocaine filled burritos people would be coming from as far as Wareham and New Bedford for their tasty treats.
The only problem would be that peeps would be knocking on the doors of this establishment at all hours of the night. "Yo man open up I just need ONE more burrito". Not to mention the tension in line at the counter from people waiting to order their burritos would make road rage look like an episode of Barney, there'd be all kinds of burrito rage in that waiting area.
Plus, you know when you are in a hurry and you pull into a place at the same time as someone else? You jump out of the car and speed walk to the door to get there first so you are one up in line? Well you ain't winning that race against a crackhead, there'd be coke fiends breaking Usain Bolt's world records running through the parking lot of that Burrito Place.
P.S. Imagine the wasted food this would cause as well? I'd imagine that once you get to the coke part of the burrito you most likely aren't finishing the rest of it. Tough to eat Mexican food when your entire face is numb and you can't feel your teeth.
Facebook: The Real Cape
Twitter: Hippie - Insane Tony
More Articles From The Real Cape: