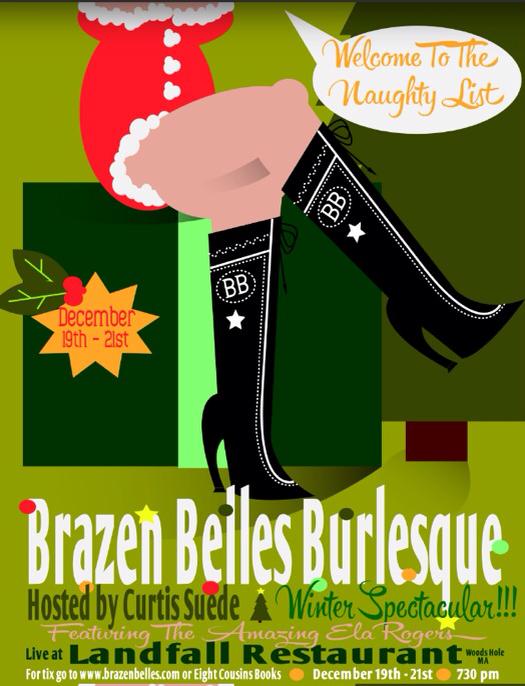 Find Brazen Belles on Facebook or visit their website
Burlesque is defined by the first result in a Google search as "a variety show, typically including striptease". While that opening sentence most likely gave every male reader of this website all the motivation they need to buy a ticket to a Brazen Belles show in the next 8 seconds, I feel compelled to expand on the subject.
The first time I saw Brazen Belles perform I expected it to be good. It would take astronomical levels of irrational self confidence to go through all the trouble of producing and performing an entire Burlesque show if you sucked at it right? Well what I saw was not good, and I use this word with a staunch record of heterosexuality, it was spectacular.
Brazen Belles are hilarious in a way that manages to be intellectually stimulating and aww shucks cute at the same time. The diverse numbers pull off an authentic down home Americana vibe complimented with just the right amount of sexy as hell naughtiness. Oh and holy shit can they sing. As funny and sexy as they are, the quality of the singing may be the most surprising aspect to a newcomer and it is most certainly the backbone of the show. You can't fake raw talent.
While a Brazen Belles show is definitely a throwback and certainly made me want to put on a derby hat, shoot some whiskey and spit in a brass spittoon, it is most certainly not entirely derivative. A welcome dose of pop culture is sprinkled throughout the night that results in a perfect blend of retrospective sensibility and contemporary attitude.
Women make up at least half the audience at every show I've been to and they all love it, but I can only speak from a man's perspective. In a nutshell, if you could stir the ingredients of a Brazen Belles show into a pot and create one woman from it, she would be every mans ideal wife. Funny, rebellious, cute, naughty, smart, and sexy? Yes please.
Would you like to make my Brazen Belles Perfect Woman Stew? Here are the instructions: Add cute and funny with a pinch of naughtiness to a pot and bring to a boil, throw in intellect and sexiness with a touch of rebelliousness and reduce to a simmer continuing to stir, just before serving add a liberal amount of raw talent to finish the dish. Serve warm. Voila, a Brazen Belles show.
Brazen Belles are putting on three shows on December 19th, 20th and 21st at The Landfall Restaurant in Woods Hole. You can get tickets online by following this link www.brazenbelleswinterspectacular.eventbrite.com or in person at Eight Cousins Bookstore in Falmouth. Do yourself a favor and get tickets soon, they sell out quickly. You will not regret it.
Find The Belles on Facebook or visit their website.
Facebook: The Real Cape
Twitter: Hippie - Insane Tony
More Articles From The Real Cape: