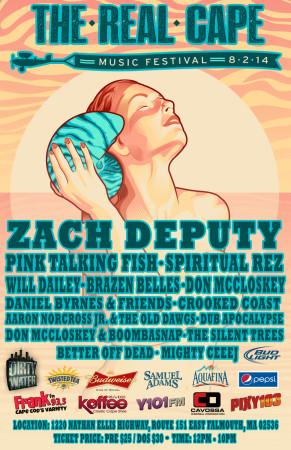 The Real Cape Music Festival is less than 2 weeks away! Early bird pre sale tix are moving fast and will be gone soon so get yours today to save some money before the price goes up. We've got tons of high energy bands lined up for the day. There's something for everybody on this lineup and we will have two stages to make sure the music never stops.
The festival will be held at The Cape Cod Fairgrounds (formerly The Barnstable County Fairgrounds). Pixy 103 will be on the scene and their DJ MattyB will be MCing the day. Matty has been a Real Cape fan from day one so it was a no brainer to get him on board. Dirty Water TV will be filming an episode all day and night so be sure to keep an eye out for their cameras as well.
We will also have some live performance art by local graffiti artists and glass blowers, tons of great food vendors and there will be some surprise musical performances around the grounds throughout the day. Did I mention the mechanical shark? Yes, we have a mechanical shark, because why not? If you aren't getting the basic idea yet, what I am saying is that The Real Cape Music Festival is going to be a festival in the truest sense of the word, with all kinds of weirdness all over the place.
So mark it down and grab your tickets early, we are going to be making history on August 2nd at The Cape Cod Fairgrounds!
Please check out the festival website HERE
Keep up with the fest on the Facebook event page HERE
Follow the fest on Twitter HERE
Check out our insane VIP packages HERE
Facebook: The Real Cape
Twitter: Hippie - Insane Tony