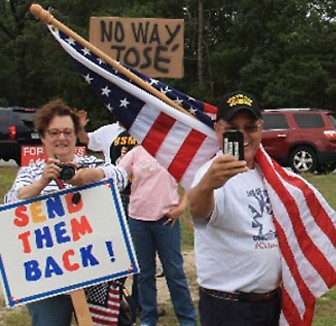 CCT – Approximately 30 citizens gathered at the Otis Rotary entrance on MacArthur Boulevard to demonstrate their opposition to Governor Patrick's offer to bring children who have fled their countries (Guatemala, Honduras and El Salvador) and crossed our southern border into the United States.

The migrant children ran away from poverty and crime to what they hoped would be a better life.

They are children who don't speak English in a foreign country without their parents.

Camp Edwards here on Cape Cod is one of the two possibilities being considered for temporary sheltering of these kids while they are being processed.
I'd like to get in these people's ear for a few minutes and just ask them a few questions. For starters, imagine that you are a child, how awful would your life have to be for you to leave your parents, your home, and everything you are familiar with, in order to escape whatever horrible situation you are in?
Now imagine this, you have heard of this place called the United States. You've heard how it is a country built on immigrants. It is a place where no matter what you have, you can always improve your life. It is the home of the "American Dream", but when you get there, instead of open arms, you are met with a bunch of fat white assholes wearing socks with sandals holding signs that say "send them back".
The ultimate irony is that the crusty Wal Martians holding those signs grandparents did the same thing these children did, except they were met with a giant awe inspiring statue of a woman holding a torch that bears the very name of what we as a nation are supposed to offer… liberty.
So I'd just like to ask those people protesting letting orphaned kids who have been through a depth of hell they couldn't even imagine, where would you be right now if they had sent your grandparents back?
P.S. You are also just protecting something you stole to begin with. There really should be a Wampanoag sitting next to the douche with the "send them back" sign with his own sign that says "I totally agree".
Facebook: The Real Cape
Twitter: Hippie - Insane Tony
More Articles From The Real Cape: