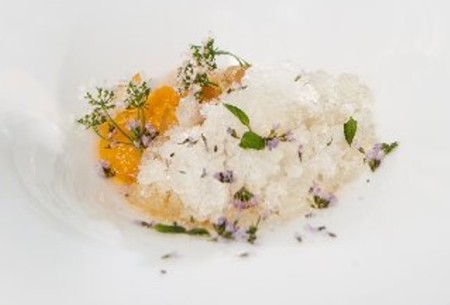 NJ.com – On the lakeside slopes of the Kittatinny Mountains, wild garlic blooms. The flowers are tiny, pink and purple in spring, white as fall approaches. You have to know precisely where to look — the delicate flowers need moisture and sunlight to flourish.

Elsewhere at Latour, someone is stopping by the kitchen at 2 a.m. to add the next batch of mushrooms to a sauce (infusions every six hours produce the best flavor), and another kitchen expert (or maybe the same guy) is peeling, by hand, each kernel of fresh corn, a job that's a day's work for about a dozen ears. And once a week, a marine biologist delivers 5 gallons of seawater from Cape Cod; the chef cooks vegetables in it, plus oysters and Dungeness crab.
Jersey for the win! I don't know about you folks, but when I think New Jersey, I think class. It's no wonder this restaurant would go to such great lengths to make sure they have the absolute cream of the crop when it comes to seawater for cooking. Anyone who doesn't know that Cape Cod seawater tastes 38 times better than any other seawater is an uncultured hick.
Seriously though? Does anyone on Cape Cod even cook their veggies in Cape Cod seawater? The marine biologist that delivers these buckets must have a hard time not laughing in their faces when they actually hand him money for a pail full of water he scooped up in the freakin' ocean.
I love great food as much as anyone, but these over the top pretentious food people are hilarious, what's next? Mars Dust Encrusted Three Eyed Pilgrim Nuclear Halibut with a side of Braised Eucalyptus regurgitated by a Kobe Koala?
P.S. That photo is of an actual dish from Restaurant Latour. It looks like a bridesmaid got too drunk, ate her corsage, and puked it up in the morning. Seriously, is that baby's breath?
Facebook: The Real Cape
Twitter: Hippie - Insane Tony
More Articles From The Real Cape: