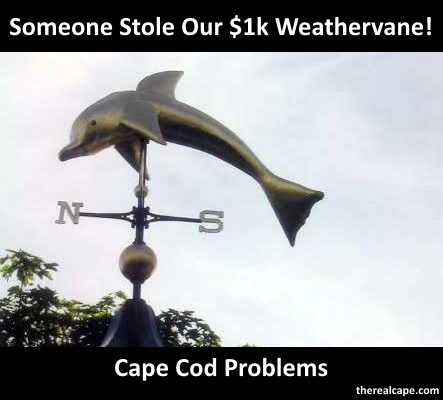 CapeCodOnline.com – Police are asking the public for help in locating a dolphin weathervane worth about $1,000 that was stolen recently from a home in Chatham, according to a press release today.

The weathervane has a three-dimensional copper dolphin that is about 40 inches long.

The dolphin is plated with 24K gold and had been displayed on the roof of the house for about 50 years, the police said.

Anyone with information can call police detectives at 508-945-1217 or leave an anonymous tip at 508-945-TTIP (8847).
Hey weathervane owner guy, welcome to Cape Cod. You should consider yourself lucky that a copper and gold weathervane worth a thousand bucks lasted 50 years. I'd call that a successful run. That shit would be snatched up in 8 seconds in most places on The Cape.
Most of us have to lock our outside shower doors so some degenerate doesn't sawzall the copper pipes off the side of our houses and the this guy wants our help finding his gold weathervane? Sorry dude, we have actual real life Cape Cod problems to deal with, like how many beers we're gonna drink at The Squire tomorrow on our trek down Cape.
Facebook: The Real Cape
Twitter: Hippie - Insane Tony
More Articles From The Real Cape: