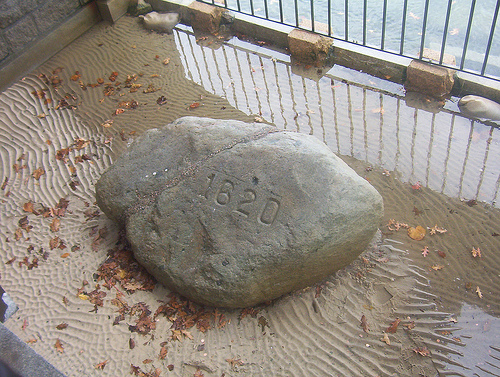 Ranker – If you're big on traveling, then you've undoubtedly come across a few tourist traps in your time. To help you avoid such mistakes, we've put together this list of the world's worst tourist traps.

#1 Ready to have your mind blown? Plymouth Rock… is just a rock.
It's about time the rest of the country realized what we Cape Codders have known since 1620. Not only is it just a rock, but there is zero evidence that it is even the right rock. In fact, there isn't much evidence to prove that the Pilgrims ever actually landed on any rock.
The real kicker is that here on Cape Cod we know that Plymouth is not the first place the Pilgrims landed anyway. They spent five weeks on Cape Cod before they headed to Plymouth. So basically Plymouth got our Pilgrim sloppy seconds. We took the Pilgrims new world V card. Cape Cod could text the pilgrims right now and the Pilgrims would sneak out of Plymouth in the middle of the night for a booty call back on the Cape. We know it, the rock knows it, and Plymouth knows it.
Wake up America, the pilgrims came to Cape Cod first, and we are still #1 in their hearts. Whenever a Cape Codder visits Plimoth Plantation, it's all sorts of awkward. The Pilgrims are looking at us with those "take me back" eyes, telling us how good we look while we reminisce about old times, and Plymouth just sits in the corner sipping its beer powerlessly knowing it could be cuckolded at any moment.
Poor Plymouth, it knows it's playing second fiddle, and with more and more articles like these popping up it looks like rest of the country is learning the truth as well. They are learning about Plymouth's fake ass rock and who the Pilgrims real daddy is.
So yeah, it may be the biggest tourist trap in the country, and it's just a rock, but the worst part is that it knows the Pilgrims won't ever completely let go of their real true love… Cape Cod. Firsties! We own the rock, we own the pilgrims, we invented America, and there's nothing anyone can do to change that. Cape Cod for the win!
Facebook: The Real Cape
Twitter: Hippie - Insane Tony