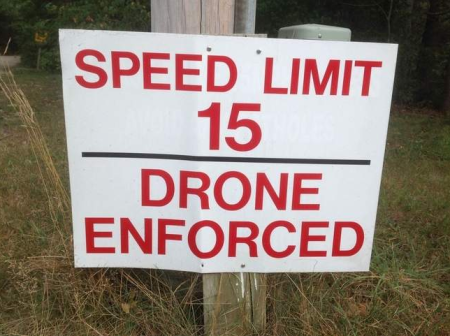 WL – Dawson Farber III was on the water late in August, during the weekend of the annual Arey's Pond Catboat Regatta, when he saw a drone flying overhead.

"The thing was just wicked cool," he said.

Then Farber, who is in charge of the roads for the private Mayflower Point Association and who had just gotten an earful about excessive speeds in the area at a neighborhood meeting, had an idea.

Several days later, a new sign appeared on Kescayogansett Road, just as the paving ends and the dirt road starts.
"Speed limit 15 mph. Drone enforced," it reads.

The new sign seems to have worked, said Farber. Unlike the "big yellow" signs that have been posted all over the point for years asking folks to please slow down and have been ignored.

A drive along the road doesn't guarantee a sighting. This reporter didn't see one.

"It is well camouflaged," said Farber with a grin.
I get it! There is no drone right? I'm on to this prankster! You might be able to put one over on the people of Orleans, but you have to get up pretty early to fool me. I was all set to say how ridiculous it is to lie about unmanned aircraft enforcing speed limits on a private road with a 15 MPH speed limit, but honestly, what was Dawson supposed to do? Can you imagine how frightening it must be to get an "earful about excessive speeds" from the "private Mayflower Point Association"? When those savages are on you it's time for desperate measures.
Seriously though, is Dawson Farber III getting ideas at a Catboat Regatta for new ways to stop poor people from speeding on Kescayogansett Road the most stereotypical Cape Coddy thing you've ever heard?
Anyway, it looks like we've got some good ole' fashioned high jinx happening out there on Mayflower Point, next thing you know they'll be tying each other's topsider laces together when they aren't looking. Someone might even end up letting the air out of their neighbors Range Rover tires, I don't know, I'm not sure if they'll have enough time.
Facebook: The Real Cape
Twitter: Hippie - Insane Tony