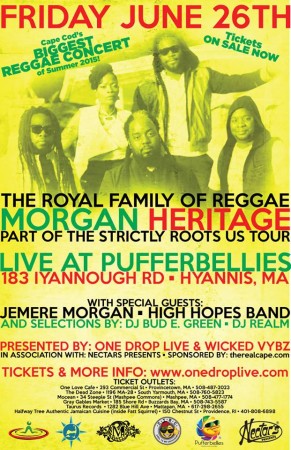 Do you love reggae, good parties and/or summer on the Cape? If you answered yes, you would be crazy to miss what is shaping up to be the biggest reggae show of the summer.
On Friday June 26th at Pufferbellies in Hyannis, MA , the "Royal Family of Reggae" Morgan Heritage will be joined by Jemere Morgan, High Hopes Band, DJ Bud E. Green and DJ Realm for a huge night of roots reggae music.
Morgan Heritage, easily one of the best live acts in the genre, is touring the US to support their brand new, Billboard charting album,"Strictly Roots", and this show is the ONLY New England stop.
Our good friends over at One Drop Live and Wicked Vybz joined forces with Nectar's Presents to bring this big bad show to the Cape. Shows this big aren't easy to get on this peninsula, so mark your calendars, dust off your Marley tee and get pumped for what promises to be a great night.
Now click that ticket link and show some support for the live music scene on Cape Cod!
See ya there!
Tickets & info onedroplive.com
Facebook: The Real Cape
Twitter: Hippie - Insane Tony