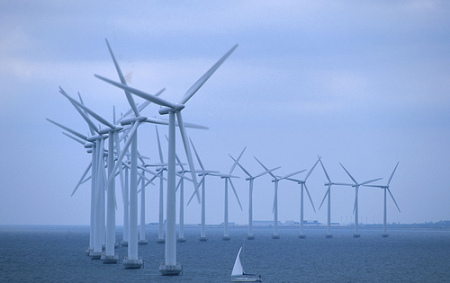 Globe – The Cape Wind plan was dealt a major setback Tuesday when two power companies that had agreed to buy energy from the Nantucket Sound wind farm terminated their contracts with the developers, raising questions about the future of the $2.5 billion offshore project.

National Grid and Northeast Utilities said Cape Wind had missed the Dec. 31 deadline contained in the 2012 contracts to obtain financing and begin construction, and chosen not to put up financial collateral to extend the deadline.

NStar, a Northeast Utilities subsidiary, informed Cape Wind officials of its decision late Tuesday, officials said.

"Unfortunately, Cape Wind has missed these critical milestones," Northeast Utilities spokeswoman Caroline Pretyman said in an e-mail. "Additionally, Cape Wind has chosen not to exercise their right to post financial security in order to extend the contract deadlines. Therefore the contract is now terminated."

In a separate e-mail, National Grid spokesman Jake Navarro said the utility was "disappointed that Cape Wind has been unable to meet its commitments under the contract, resulting in today's termination of the power purchase agreement."

Under the 2012 agreement, Northeast Utilities and NStar agreed to buy 27.5 percent of Cape Wind's production. National Grid had previously signed on to purchase 50 percent.
Cape Wind is officially the little wind farm that cried wolf. For over ten years now it's been approvals followed by denials, court victories followed by injunctions. One day they are all set to go, the next day the project is doomed. I for one am sick of hearing about it at this point. I think the media should make a pact, don't publish anything about it again until there's either a windmill on a boat about to launch or the last person involved is dead.
Cape Wind is like those friends you have that keep breaking up and getting back together, eventually you just have to tell them to shut the fuck up about it because you can't keep wasting your life listening to them bitch about their shit. Well that's where I am with this, the Cape Wind people and Bill Koch need to go to counseling and figure out their crap in private behind closed doors, no more articles, no more Facebook posts, and no more late night phone calls crying to us. We've got our own problems Cape Wind, we can't waste anymore time worrying about yours.
Facebook: The Real Cape
Twitter: Hippie - Insane Tony