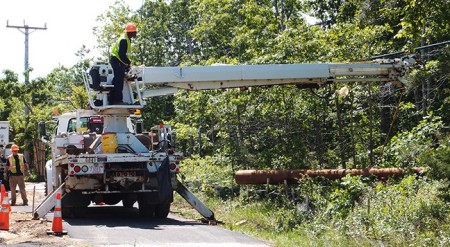 CapeCodOnline.com – One of the chief complaints voiced by opponents of NStar's annual herbicide treatment on land beneath its power lines is that members of the public are not told specifically when their areas will be treated.

That lack of information was evident Wednesday when a group of protesters gathered outside NStar's service center on Willow Street to demonstrate against the use of herbicide applications, which they believed had just recently gotten underway on the Cape.

A spokesman from NStar told the Times just hours after the rally that the treatments are in fact nearly finished, and crews should be out of the area by the end of this week.

Residents in Bourne, Chatham, Dennis, Falmouth, Harwich, Sandwich, Truro, Yarmouth and Wellfleet had been notified in late summer that the utility company would be spraying in their towns and that work could continue until Dec. 31.

But work will instead wrap up by NStar's target date of Oct. 31.

"It's been going quite well, and we've done everything," NStar spokesman Michael Durand said.
We've written about NStar poisoning us before, but I may need to switch sides on this issue if they keep this up. At this point they are just getting so cocky you almost have to respect it. Not giving a fuck is one of our favorite things here at The Real Cape and NStar is reinventing the "not giving a fuck" game right now. Someone asked NStar about when their highly controversial herbicide campaign on Cape Cod might end and their spokesman's response was just like…
"Oh we're pretty much done, yeah, the poisoning is going so well that we're actually way ahead of schedule. You saw the size of that big truck sprayer right? That thing is awesome. We've poisoned almost everything already, the ground, the water, the trees, yeah it's been a GREAT year for poisoning people, it's almost as if the poison has spread itself. Yup, if all goes to plan we should be done poisoning you guys any day now"
Such an amazingly cool, calm, and collected yet simultaneously evil response. I think they pulled a Jedi mind trick on me and now I'm actually proud of how efficiently they are able to contaminate our entire peninsula. NStar is kind of like Walter White from Breaking Bad or Jax Teller from Sons of Anarchy now. They are evil, I know they are evil, they do evil things, but I find myself rooting for them for some reason.
Facebook: The Real Cape
Twitter: Hippie - Insane Tony