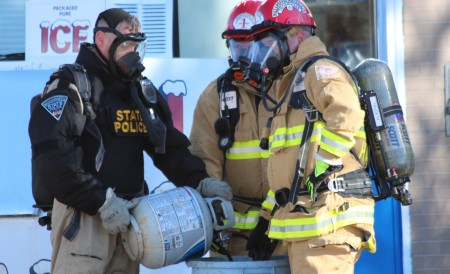 photo credit: Robert Bastille
HyannisNews.com – Massachusetts State Police Bomb Squads and a Hazmat team were called in yesterday to deal with a suspicious propane tank reportedly containing anhydrous ammonia.

Anhydrous ammonia is a volatile pungent gas often used in the illicit production of methamphetamines, such as "crystal meth…"

Propane tanks used in meth manufacturing are often emptied and used to transport anhydrous ammonia.  The tanks become hazardous and dangerous to reuse because the ammonia chemical compound, which is often stored under high pressure in liquid form, reacts with certain metals and weakens the  structure. The tanks become an explosion hazard. Anhydrous ammonia also presents potentially lethal health complications if inhaled, or even when it comes in contact with the skin… The severity of the adverse effects depends on the level of exposure…
Perfect timing! Has the snow melting in your yard exposed empty packs of Newports and discarded nips of Fireball? Is the thought of the massive spring cleanup left you completely overwhelmed? Not to worry! New from Blue Rhino is the Cape Cod crystal meth starter kit tank for your grill.
All you need to do is invite all of your friends over for a Memorial Day barbecue and have plenty of rakes on hand. Fire up the grill and watch your friends start pacing the yard in circles. Hand each one of them a rake and voila! Next thing you know the hypodermics and dog poop left behind by the melting snow are cleaned up, ready for disposal, your lawn is clean enough to eat off of, and your friends have started re siding the house.
The beauty is you don't even need to have any food on hand because nobody ever gets hungry at a Cape Cod crystal meth barbecue! They do, however, last 3-5 days around the clock, so make sure to have plenty of activities lined up… oh, and be prepared to replace all of your copper pipes after your guests finally leave.
Facebook: The Real Cape
Twitter: Hippie - Insane Tony
More Articles From The Real Cape: